Dana White reveals UFC turned down $5 billion offer in favor of selling to WME-IMG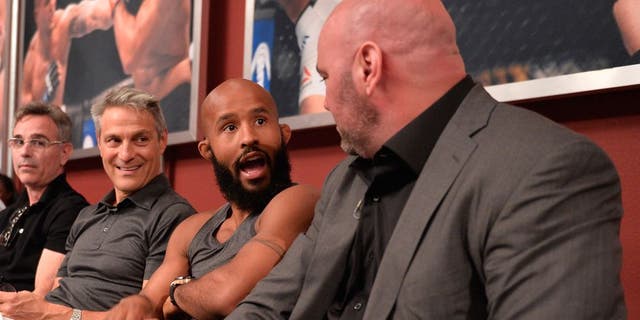 NEWYou can now listen to Fox News articles!
At the time when the UFC sold for just over $4 billion last year it was the most lucrative deal for any sports franchise in history.
The new owners led by uber talent agency WME-IMG, headed up by co-CEO's Ari Emanuel and Patrick Whitesell, ultimately put together a winning bid to purchase the promotion from Lorenzo and Frank Fertitta as well as UFC president Dana White that saw the organization change hands for the first time in 15 years.
As it turns out, the record-breaking number to purchase the UFC wasn't even the highest amongst all the bidders who turned out in an effort to buy the mixed martial arts promotion.
"I was never in this for the money ever," White explained in a new interview on UFC Fight Pass. "When we bought this thing, we bought it for $2 million and then we were upside down and everything else. For me it's always taking it to the next level.
"Let me be honest with you, when we were doing this deal there were two groups that came in for more money than Ari [Emanual]. There was one [offer] for $5 billion."
According to White, the Fertitta brothers who were the primary shareholders in the company, decided that selling to WME-IMG made more sense because they had a vision for the organization that would see the UFC continue to succeed from now into the future.
"There's people who I believe add value. One of the million things I respect about the Fertitta's, they weren't just going to let this thing go for the money," White said. "They were going to make sure it went to somebody who could actually take it and bring it to the next level."
White teased those plans when speaking about the reach and influence that Emanuel has in the entertainment industry after growing his own agency into a powerhouse in Hollywood over the past decade.
"If you look at what Lorenzo, Frank and I accomplished when we had no production experience, no connections to Hollywood, L.A., television isn't what we did, we've never been in the pay-per-view business before. You look at what we did," White said. "Now we're with a guy who is the king of Hollywood.
"Doing deals like this is what he does. It's just going to be so much bigger for the sport, obviously for the brand and for the fighters."
Getty Images
White wasn't ready to let the cat out of the bag in terms of details on what the new UFC owners have planned, but he's definitely excited for what the future holds for the promotion.
"Ari is one of these guys, he's got huge balls, he's very smart, and he has laid out a really great plan for the sport," White said. "The vision that Ari has for it right now, I am on board and I love it."
White also reiterated that while he inked a five-year deal to remain on as UFC president after the promotion was sold that he has no plans of going anywhere in the near future.
The contract was put in place because White had to sign some sort of deal under the new ownership, but he promises that he'll be part of the UFC for as long as the new owners will have him or until the day he finally decides to call it a career.
From the sound of things, that won't be any time soon.
"Me and Ari could not be in a better place. I could not be a bigger believer in what we're going to do over the next five years and what these guys bring to the table," White said.
"I'm in. I love this. I'm not going anywhere."
Zuffa LLC via Getty Images | Jeff Bottari/Zuffa LLC