Dana White responds to rumors of Anderson Silva vs. Georges St-Pierre at UFC 206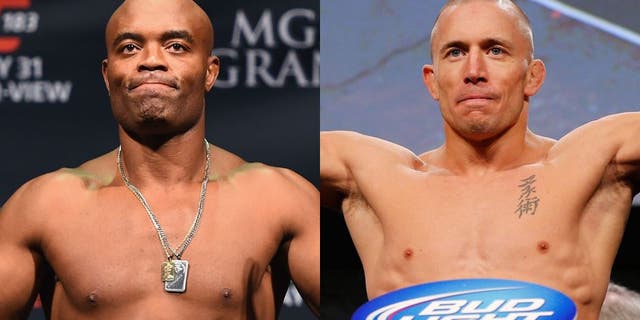 NEWYou can now listen to Fox News articles!
Long before Conor McGregor was hopping between divisions looking to gobble up titles in numerous weight divisions, the most talked about super fight that never happened as the long rumored showdown between Anderson Silva and Georges St-Pierre.
For years following a win by either one of the future UFC Hall of Famers, Silva and St-Pierre were repeatedly asked about a potential fight but for all the talk about it, the matchup never came together.
Just recently, rumors bubbled to the surface once again that there was a possible fight being proposed between Silva and St-Pierre for later this year. Silva's son Kalyl even hinted at the fight on his Instagram page by showing a picture of the two fighters side-by-side and saying "Christmas months should be exciting".
UFC president Dana White finally addressed speculation about the fight between Silva and St-Pierre after the event in England this past weekend while speaking to former title challenger Dan Hardy on BT Sport.
"That's not true. So not true," White said. "I know everybody keeps talking about -- GSP isn't even close. I'm telling you again, I don't think GSP wants to fight. I keep saying this. You guys know fighters as much as I know fighters, do you think GSP wants to fight? GSP wasn't crazy about fighting when he was fighting! Now three years later he's just dying to fight? He's not. I don't think he is."
St-Pierre has stated rather emphatically that he wants to return to fighting, but wouldn't compete in the UFC without a new contract.
Since the time that St-Pierre last fought in 2013, the UFC has signed an exclusive uniform agreement with Reebok that now prevents fighters from wearing any outside sponsors into the Octagon. St-Pierre had a slew of endorsements during his previous run with the promotion including a sponsorship with Under Armour, which would undoubtedly be seen as a direct competitor to Reebok.
No deal has been struck but St-Pierre recently re-entered the drug testing pool, which is required of any athlete who is returning from retirement or from outside the promotion before being allowed to compete again.
Still, White maintains that he's not sold St-Pierre actually wants to fight and he's even less convinced that a bout with Silva would bring him back for his self-imposed sabbatical from the sport.
"That fight is definitely not gonna happen. I don't think GSP ever returns," White said. "And in some cases, that's not a bad thing.
"The guy retired, he went out on top, he's looked at as one of the greatest to ever do it and I just think he lost that fire a long time ago. For some reason -- he's got his own person reasons -- he likes to keep his name out there like he might be coming back and everybody is anticipating his return, but at the end of the day I don't think he wants it."
If St-Pierre does come back before the end of the year, UFC 206 in Toronto would seem like the most desirable landing spot for the veteran Canadian fighter.
White maintains his position that St-Pierre isn't going to return, although if the two sides could come to an agreement on a new contract, chances are he'd be welcomed back with open arms.