Dana White nearly gets punched during Jedrzejczyk-Gadelha stare down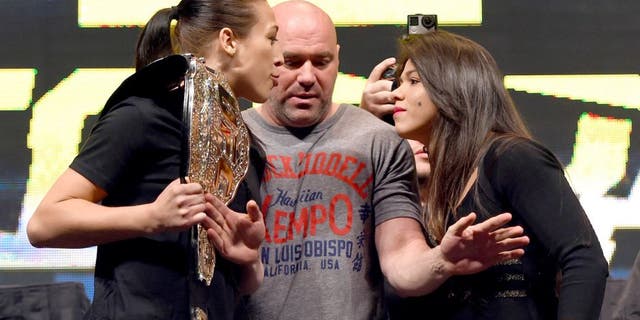 For all the bad blood that was going back and forth between the fighters at the "UFC Unstoppable" press conference on Friday, strawweight champion Joanna Jedrzejczyk and Claudia Gadelha may have been at the top of the list.
At the end of the press conference during the customary stare down, Jedrzejczyk and Gadelha were being separated by UFC president Dana White as the strawweight competitors charged towards each other.
Jedrzejczyk put up her fist at one point as the fighters were being held apart and as Gadelha pushed forward, UFC president Dana White nearly caught a punch to the face.
He quickly jumped back before he forced Jedrzejczyk and Gadelha to go in opposite directions off the stage.
Jedrzejczyk and Gadelha are set to face off on July 8 with the title on the line after a season coaching against each other on "The Ultimate Fighter", which debuts in April on FS1.
As soon as the two fighters hit the stage on Friday, Jedrzejczyk was already talking trash to Gadelha who was sitting just a few feet away from her. At one point, the UFC even stationed a security guard between them just to make sure nothing crazy happened.
The face off was just the tipping point and if this press conference is any indicator the new season of "The Ultimate Fighter" is going to be very heated not to mention when Jedrzejczyk and Gadelha finally face off this summer.