Dana White: If Cody Garbrandt can't fight, T.J. Dillashaw wants Demetrious Johnson instead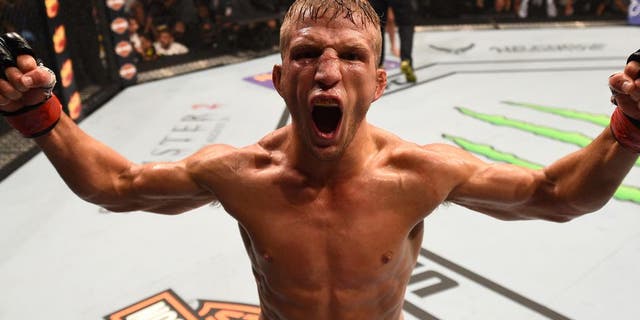 DALLAS The UFC 213 main event could be in jeopardy due to an injury to Cody Garbrandt, but his opponent T.J. Dillashaw seems more than happy to face another champion if that fight falls apart.
It was revealed on Friday that Garbrandt was going to leave for Germany over the weekend to receive treatment on his injured back after suffering through severe pain during his training camp.
While it's impossible to predict how Garbrandt will recover from the treatment, he sounded somewhat despondent about the prospects of fighting just two months later.
If Garbrandt is unable to compete, UFC president Dana White then revealed that Dillashaw has already put in a request to face another champion on the UFC 213 card on July 8.
"If he can't fight, T.J. Dillashaw called me this morning and said 'if Cody can't fight, what I would love to do is stop Demetrious Johnson from breaking the record [for most title defenses]'. So that's fun," White said.
Johnson is currently tied with Anderson Silva for the most title defenses in UFC history with 10 and White confirmed that Dillashaw was asking for the fight to take place with the flyweight title on the line.
Dillashaw even touted the potential matchup on Twitter on Friday while referencing Johnson's nickname.
Of course despite Dillashaw's willingness to move down to 125 pounds to challenge Johnson, White still believes the fight with Garbrandt will move forward despite his current back injury.
"It's not off. Cody Garbrandt is having back issues and we sent him to a place for stem cell [injections] and apparently that didn't work so we're putting him on a plane and sending him to that place in Germany that I go to. If this doesn't work, he'll be the only athlete that I've known of that it didn't work. It works for Kobe Bryant and it works for A-Rod [Alex Rodriguez] and soccer players. Every athlete I've ever known to go there and come out healed," White explained.
"Cody's not confident because when you're in the kind of pain that he's in, you don't believe that you can be fixed that easily but I know the credentials of these guys in Germany. I'm 100-percent confident that he will be better and he will fight [in] July."
Garbrandt will fly to Germany this weekend for treatment and it shouldn't be long before he's able to tell the UFC whether or not he's ready to compete on July 8.