Dana White: Demetrious Johnson could already be considered 'the greatest of all time'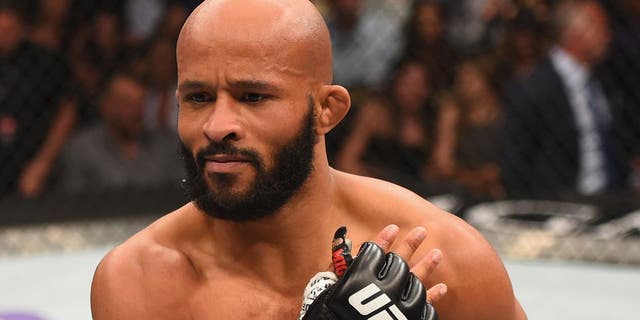 With his 10th consecutive title defense, Demetrious Johnson tied Anderson Silva for the all-time UFC record and with one more win he will hold a place in history all by himself.
Johnson dismantled Wilson Reis over three rounds to notch the record while continuing to reign terror over the flyweight division as the only 125-pound champion the UFC has ever known.
Johnson only needs to defend his title one more time and he will officially move past Silva, who has held the record since 2012 when he defeated Chael Sonnen for the second time to extend his streak to 10 in a row.
Considering Johnson's career resume, UFC president Dana White says that Johnson is not only one fight away from breaking Silva's record, but he may also be taking the Brazilian's coveted spot as the greatest fighter of all time.
"Listen he's got one more fight and he break Anderson Silva's record. He's already the pound-for-pound best fighter in the world and he strives to be better each time and he gets better each time. Literally destroying people," White said at the post-fight press conference.
"This kid could be considered the [greatest of all time] right now or to give Anderson Silva the true respect, you wait till he actually breaks the record. It's hard not to call this guy the greatest of all time."
White was amazed by what Johnson was able to do over three rounds as he picked part Reis on the feet before pulling off the submission in the third round.
White says UFC color commentator Joe Rogan was also raving about Johnson's performance while sending him messages after the card was over.
"The guy's an absolute freak of nature," White said about Johnson. "Joe Rogan was blowing me up 'this guy's a wizard, this guy's the greatest ever' and you know Rogan, Rogan's a jiu-jitsu nut so he's going crazy and well deserved."
If there's a side effect to Johnson's dominance it's the difficulty in finding worthy opponents to challenge him for the title.
Johnson has already run through every top contender at 125-pounds some of them more than once and it leaves a wide open question about who truly deserves the next shot not to mention who would actually present a challenge as he attempts to make history with his next title defense.
"Anderson Silva had that problem, too," White said about finding Johnson's next opponent. "When you run through guys as long as these two have run through guys, but I promise you, we'll find somebody."