Dana White: Anderson Silva will not receive an interim title fight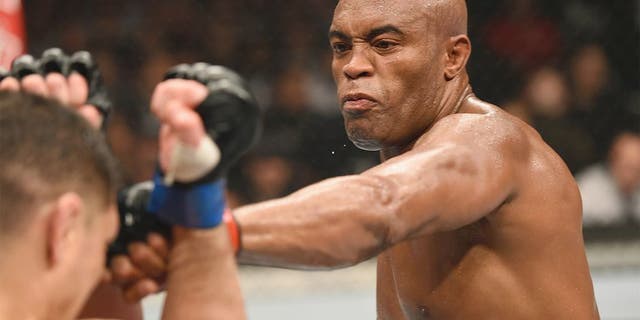 UFC president Dana White is calling Anderson Silva's bluff.
The former middleweight champion stated this past week that if he didn't receive an interim title fight against No. 1 ranked contender Yoel Romero that he would retire from the sport entirely.
White heard his demand and now he's answered back by sending a message to Silva that his request is not granted. On top of that, White says that if Silva is seriously considering retirement, it's probably time to hang up the gloves anyways.
"Every time, for the last however many years, dealing with Anderson it's always interesting. You know obviously he wants an interim title, obviously we're not going to do an interim title," White told TMZ. "He's definitely coming out publiclyand you know my philosophy on that, if you ever say the 'R' word, you should probably do it anyway.
"If you're considering retirement, you should probably do it."
Harry How/Zuffa LLC/Zuffa LLC via Getty Images
White doubled down when saying flat out that no interim title will be introduced in the middleweight division as the UFC awaits current champion Michael Bisping to face off with Georges St-Pierre later this year.
Several fighters in the division have expressed displeasure with the waiting game while Bisping isn't expected to face St-Pierre until some time after October, which means the title will have not been defended in over a year.
Still, White insists that the UFC isn't going to introduce another middleweight belt in the interim. He also explained that Silva's ire over the entire situation bubbled up after his original opponent for UFC 212 in Brazil was pulled from the fight after testing positive for marijuana, but the promotion has done everything possible to get him a replacement to no avail.
"We will not do an interim title. No, it won't happen," White said. "Bisping's ready, willing and able to fight the actual No. 1 contender, who's Yoel Romero. I mean Anderson Silva's ranked No. 7 right now. If he was willing to take the Romero fight for June because he was supposed to fight Kelvin Gastelum.
"Anderson's mad. I didn't pull Kelvin Gastelum out. Kelvin Gastelum smoked weed and now he got busted and we've done everything we could to make another fight for Anderson. So it's nothing we did."