Dan Quinn believes Matt Ryan will ease burden of Kyle Shanahan's departure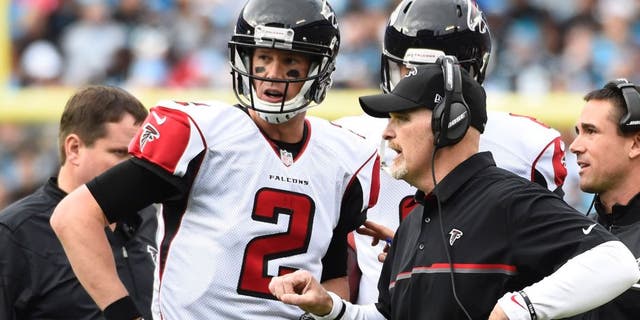 The Atlanta Falcons were mere minutes from winning their first Super Bowl in franchise history, only to let it slip away at the hands of Tom Brady. Now, they'll have to overcome several offseason changes to make it back to the top of the NFC next year.
The biggest change of all is at offensive coordinator where Kyle Shanahan has left a gaping hole, fleeing Atlanta for the 49ers' head coaching job. He was the mastermind behind the Falcons' dominant offense, despite also being a big reason they blew their big lead in Super Bowl LI.
So how much will Shanahan's departure hurt the Falcons? Not much, according to Dan Quinn.
"Matt and Kyle did some of that this year with some of our two-minute stuff," Quinn told ESPN, referring to the no-huddle offense. "It's something that Matt was really familiar with that he had in the past. And he brought it up to Kyle, and Kyle changed what he was doing. Good for him, because Matt was really comfortable. I think that's your clearest example of that."
Steve Sarkisian, the Falcons' new offensive coordinator, figures to keep their current West Coast offense in place. Quick passes and creativity were staples of Shanahan's offense, and the Falcons would like to keep those elements in place.
Part of the reason they'll be able to do so is because of Ryan's command of the offense. He's a vocal leader and spoke up to Shanahan about play-calling and the direction of the offense.
"Guys that we would assimilate in those conversations around the league are Eli [Manning], and Aaron Rodgers, and [Drew] Brees, and [Tom Brady], so of course Matt is that," Quinn said. "When you get to that spot where you can really articulate, 'This is the call I like, this is what I want to attack here,' he's 100 percent at that level. Fortunately, that's a cool spot to be in for us. When you can get to that level professionally where the play -- not that he knows more than the coach -- but he can talk in a way to a coach that he doesn't have to beat around the bush."
It wouldn't be surprising in the least bit to see the Falcons put up 540 points again next season, but wholeheartedly expecting them to do so would be unfair. There's likely to be a transition period between Shanahan and Sarkisian, just as there was one when Shanahan signed on two years ago.
If the Falcons are offensive juggernauts again, it'll largely be because of Matt Ryan's play.