Dallas Cowboys at Tampa Bay Buccaneers game preview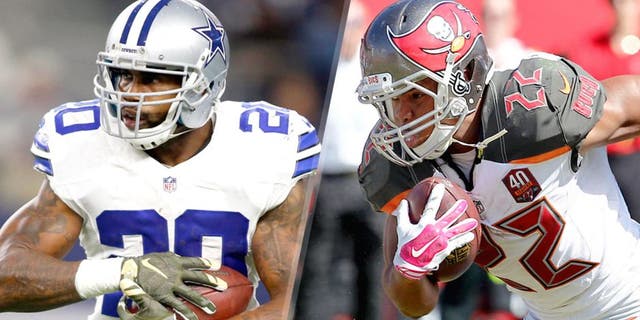 TV: FOX
Time: Sunday, 1 p.m.
Time is running out for the Dallas Cowboys and Tampa Bay Buccaneers as they sit in last place in their respective divisions at the midpoint.
The Cowboys are enduring their longest losing streak since 1989, and Sunday's road matchup may be their last chance to win before Tony Romo returns.
Dallas (2-6) is in its worst stretch since losing the final seven games of its 1-15 season that set a team mark for futility. The Cowboys have dropped all six games without Romo, who is eligible to return next week at Miami and has begun practicing after being out with a broken left collarbone.
Before that, Dallas hopes to end a frustrating stretch in which four defeats have been by seven or fewer points.
"I didn't expect to lose six games with our roster," owner Jerry Jones said. "I didn't expect to lose Romo after the second game. A lot of people lose players, and a lot of people win games. We're just very disappointed for everybody concerned that we haven't won more games."
While Dallas had big expectations as defending NFC East champion, that wasn't the case for Tampa Bay (3-5) with Lovie Smith in his second year as coach and quarterback Jameis Winston in his rookie season. The Buccaneers have improved on a last-place finish at 2-14 in the South in 2014, though they feel capable of more.
"When you have a 3-5 record, you're not where you want to be at that moment," Smith said. "But we have a little bit of time to get it right."
Dallas went 0-3 with Brandon Weeden at quarterback before dropping the next three behind Matt Cassel, who showed improvement in last Sunday's 33-27 overtime loss to Philadelphia with 299 passing yards and three touchdowns. However, he made a critical mistake as he had a pass intercepted by Jordan Hicks and returned 67 yards for a TD in the fourth quarter.
"We have to address why it hasn't been good enough," coach Jason Garrett said. "All this stuff about how we play is important. But then you have to do those things at the end of the ballgame to win the game."
Darren McFadden has become the starting running back due to Lance Dunbar's season-ending torn ACL and the release of troubled Joseph Randle. McFadden has carried at least 20 times in three straight games for the first time, running for 117 yards last weekend for Dallas' eighth-ranked ground attack (128.6 ypg).
Tampa Bay is looking for a productive effort from a running game that's ranked seventh with 131.9 yards. Doug Martin is averaging 80.4, though he was held to a season-low 31 and lost a fumble in last Sunday's 32-18 home loss to the New York Giants.
The presence of Martin has taken the pressure off Winston, who went 19 of 36 for 249 yards and failed to throw a touchdown pass for the first time Sunday. Winston has no turnovers in his last four games.
"They're trying to run the football, they've done a very a good job running it and I think (Winston's) doing well in a complementary type role and I say that as a compliment," Garrett said. "He's been able to make some plays for them, he hasn't made a lot of mistakes, he's made some big plays with his feet."
Mike Evans matched a career high with eight receptions for 152 yards against the Giants, though he also had six drops as Winston targeted him 19 times. Evans blamed himself for the loss.
"I know he's going to bounce back," Winston said. "That's Mike, Mike is a competitor. It's rare that that may happen but I know that he's going to bounce back. He already put that behind him and we're going to try to have another productive game this game."
A rainy atmosphere last weekend contributed to Evans' problems, though sunny skies are forecast this Sunday in Tampa.
Dez Bryant came through with five catches for 104 yards and his first touchdown last weekend for Dallas.
Jones said that Sean Lee is doubtful after the linebacker suffered his second concussion in five weeks. Lee, with a team-high 66 tackles, has not missed a game.
The Buccaneers' defense features three players who were with the Cowboys last season in linebacker Bruce Carter, tackle Henry Melton and cornerback Sterling Moore.
Dallas has won the last five meetings with Tampa Bay.