Dale Jr. to Aric Almirola: 'Don't rush back before you're ready'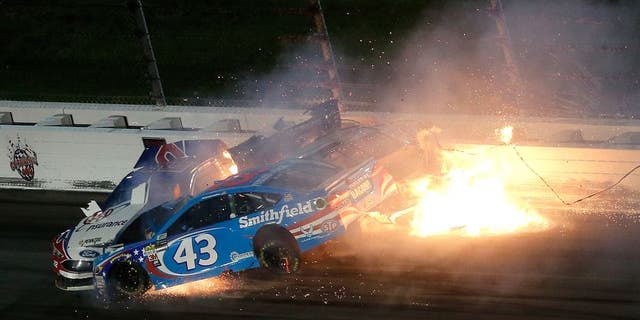 CONCORD, N.C. -- Dale Earnhardt Jr. spoke Wednesday night with Aric Almirola about the terrifying crash at Kansas Speedway last Saturday night that left Almirola with a compression fracture on his T5 vertebra.
The back injury has sidelined Almirola indefinitely in the Monster Energy NASCAR Cup Series something Earnhardt can identify with after missing the final 18 races of the 2016 season because of a concussion.
Earnhardts main advice for Almirola, who will be replaced by Regan Smith in the No. 43 Richard Petty Motorsports Ford while hes out: dont rush back onto the track until youre sure youre healed and ready.
The 33-year-old Almirola suffered the injury during the Go Bowling 400, when his car slammed into the cars driven by Joey Logano and Danica Patrick after a part broke in Logano's car, causing him to turn into Patrick. All three cars burst into flames.
Hes smart. Arics a really sharp kid, married, got kids, Earnhardt said Thursday after his All-Star Race paint scheme was revealed at a media event across the street from Charlotte Motor Speedway. The doctors told him how lucky he is, how easily that could have went the other way with him had he gotten some spinal-cord damage how easily that could have happened to him.
Hes well aware. And he wont be rushing back to put himself in any kind of danger going forward.
At the same time, Earnhardt admitted that it was far easier for him, at age 42 and with 26 career Cup wins already on the books, to take his time coming back last season than it likely will be for Almirola or any younger driver who suffers injuries.
Its a tough situation for him, Earnhardt said. He certainly doesnt want to give up his opportunity and lose his place in the sport as a driver. And I can understand the concerns he has in the back of his mind. He needs to take care of himself, but he loves driving and he wants that opportunity when he gets well.
Earnhardt said that even for him, earlier in his career, taking races off always felt like a luxury he could not afford to take.
I think it was easy for me because I saved my money, I was near the end of my career, I didnt really have a whole lot to lose by taking my time, Earnhardt said. Now for Aric and guys who are young and still feel like theyve got 10 years or more, its different. Aric is still grinding and trying to get a grip on his role in the sport as a driver, and his position. He wants to be in the most comfortable position he can be in not only financially, but behind the wheel of the car.
There are a lot of drivers like that. With all these rookies coming in, its not as easy a decision for them. Its a much harder decision if youre 23 years old and just got a great shot and a great opportunity.
It doesnt take long. There are always guys right over your shoulder. If somebody comes in and gets in your car and goes faster than you, does better than you thats what you worry about as a driver. You worry about guys coming in there and showing you up and taking your seat."