Dale Jr. recalls wild pickup truck wreck from his younger days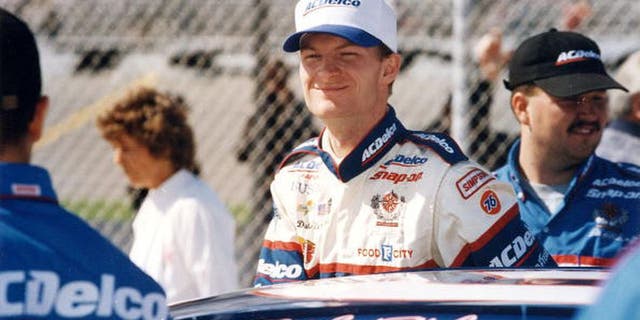 Dale Earnhardt Jr. unveiled his paint scheme Thursday afternoon for the Monster Energy All-Star Race at Charlotte Motor Speedway (Saturday, 6 p.m. ET on FS1) along with a partnership with Maaco Collision Repair and Auto Painting who will feature on the No. 88 Hendrick Motorsports Chevrolets quarter panel and rear of the car.
While unveiling the paint scheme, Earnhardt was asked if hes had any Maaco moments off the racetrack where he could have used the collision repair service.
Dale Jr. quipped, Ive been in a few that I dont even think Maaco could have helped me with.
He then followed up with a vintage Earnhardt story about flipping his Chevrolet S-10 pickup truck when he was around 19 years old and being afraid that his father, Dale Earnhardt, would be pretty mad at him for what happened.
I flipped my pickup S-10 pickup truck driving to my mammaw's for the family reunion on Christmas Day one time, Earnhardt recalled. I was probably about 18 or 19 years old back then. I was working at the dealership as a service mechanic and my sister got me a CD player. The kind that you plug the tape in with the adapter. That thing is sitting in the passenger seat and I was fiddling with it and I wasnt paying attention, drove off the road, hit a driveway culvert and flipped end over end and rolled a couple times.
The scene Earnhardt painted of himself walking on the road and see some bystanders really conveyed the intensity of the wreck.
This couple that was driving toward me had just gotten engaged that day. They stopped and theyre like oh my God, that was incredible. Your truck was flipping and there are parts hanging in the trees. Are you okay? In a mere moment, theres this line of cars because my trucks laying there blocking the road.
I go to each one and asked if anybody had a cell phone and at the fourth car, this lady says you need to sit down. Youre in shock. I just wanted to call my dad and need somebody to get here that I know who can help me with the situation. Im really young and dont know the first thing Im supposed to do.
After he finally found someone with a cell phone and called his father, his dad showed up with the police and a tow truck to take the mangled S-10 back to the Earnhardts farm property.
The conversation with his father didnt go as Earnhardt expected, though.
Dad laughed because he actually flipped his car when he was 18, Earnhardt said. So, instead of getting mad and having my butt chewed, we laughed about it and boy did I learn my lesson.