Dale Jr. no longer feels like 'odd man out' at Hendrick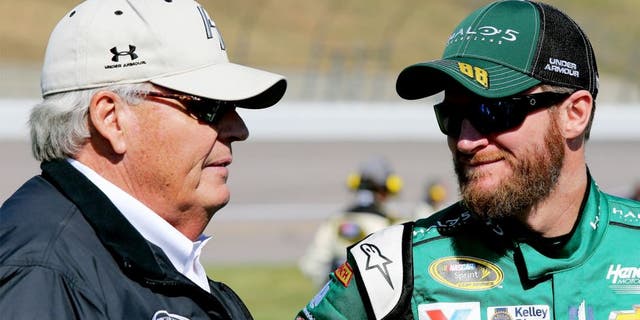 In his first four seasons at Hendrick Motorsports, Dale Earnhardt Jr. made the Chase for the NASCAR Sprint Cup twice but managed to win only one race.
In the four years since, NASCAR's most popular driver has amassed eight wins -- including the 2014 Daytona 500 -- while making the Chase in each attempt.
Perhaps somewhat surprisingly, or perhaps not, Earnhardt recently admitted there was a period early on at Hendrick when he actually felt a bit out of place.
"For the longest time I felt like I was maybe the odd man out or I just didn't fit in," the third-generation driver, now 41 years old, said during the recent Charlotte Motor Speedway Media Tour presented by Technocom. "For whatever reason I just didn't feel like I was a piece of the puzzle."
It's not altogether surprising that Earnhardt's transition to Hendrick in 2008 presented its challenges. The native of Kannapolis, North Carolina won two XFINITY Series titles and spent his first eight seasons in NASCAR's top series with Dale Earnhardt Inc. -- the company his late father founded and an old Hendrick rival.
It's also easy to see why Earnhardt -- who enjoys wearing T-shirts and blue jeans -- maybe even had some trouble assimilating into the buttoned-down culture at Hendrick, where collared shirts and suit pants are the preferred way.
But above any of that, Earnhardt simply wanted to be competitive, which he particularly struggled to do in his second and third seasons with the organization when he not only failed to win a race but combined for just five top-five finishes and finished outside the top 20 in points.

"I just didn't feel like I was working," Earnhardt said on the media tour. "We couldn't get our team going, we couldn't find success, stability, I was unhappy. We all went through that. We all were there. But now everything's working and it's very exciting to be able to sit down and sit at the table with all those guys --€" Jimmie (Johnson, teammate) and Doug (Duchardt, Hendrick executive) and Rick (Hendrick, team owner) -- and have won races, and talk about what you feel about the car and where the company's going, and answer those questions confidently because you're in there doing the job right.
"For the longest time I just never wanted to push myself to involve myself too much in any of the conversations and the direction, because I was not accomplishing my goals on Sunday. It was, 'What do I have to say? I've got to get my crap together first before I can come to the table with any kind of cool ideas or direction.' But it's fun now. Things are going good."
Even now, though, Earnhardt admits he sometimes doesn't know how to assess his contributions to the organization, which has won 11 top series NASCAR titles and in 2016 will field entries for Earnhardt, six-time Sprint Cup champion Jimmie Johnson, Kasey Kahne and rookie Chase Elliott.

"It's good," Earnhardt said. "I don't know where I fit in or what I am. I don't know how to measure my value to the company, personally, but I love being a part of it, and I'm a company guy. Wherever they need me to go, I'm going. Whatever they need me to do, I'm doing."