Dale Jr. meets fans at Walmart, leaves with a cool gift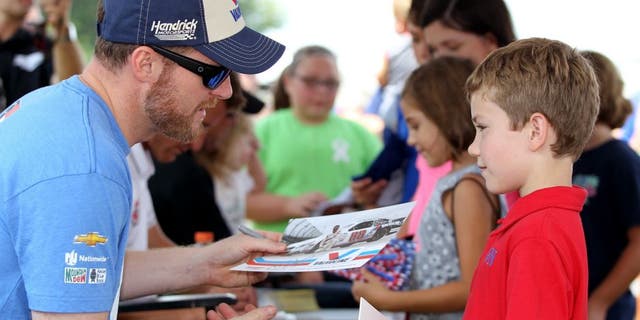 Racing fans simply cannot stop giving gifts to Dale Earnhardt Jr.
After being "completely floored" by a special gift from a fan at Indianapolis in July, and "so grateful" for a gift from a supporter last month at Michigan, NASCAR's most popular driver was on the receiving end yet again during a sponsor appearance Saturday at a Walmart in Florence, South Carolina.
While meeting with fans at the store -- located not far from Darlington Raceway where Earnhardt Jr. will race in Sunday's Bojangles' Southern 500 -- the third-generation driver was presented with a throwback shirt from a father and son whom he later publicly thanked on Twitter.
As was the case with the gifts Earnhardt Jr. received from fans at both Indy and Michigan, this one likewise harkened back to the days when his legendary father, the late Dale Earnhardt, raced in NASCAR's top series.
Saturday's gift also couldn't have been any more fitting, since it's throwback weekend at Darlington Raceway, where Earnhardt Jr. and most of the Sprint Cup Series drivers on hand are sporting old-school paint schemes on their respective cars.
Of course, the gift-givers weren't the only fans whom left an impression on Earnhardt Jr. during his Walmart visit.
Heck, maybe getting to mingle with fans at one of America's most well-known retailers was just what Junior needed to be in the right frame of mind to compete in Sunday night's big race at the track "Too Tough To Tame."