Dale Earnhardt Jr. will need to adjust driving style to win again at Martinsville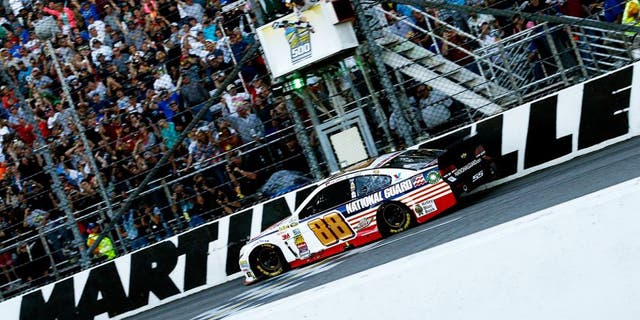 One of the favorites going into Sunday's STP 500 at Martinsville Speedway has to be Dale Earnhardt Jr., who has one victory and three top-four finishes in his last four starts at the historic Virginia short track.
Earnhardt put the No. 88 Hendrick Motorsports Chevrolet into Victory Lane at Martinsville in the fall race in 2014, an emotional triumph that earned him his first grandfather clock trophy. That's always a big moment for a driver.
This time around, NASCAR's rule tweak will necessitate a slightly different driving style, according to Earnhardt.
"I think NASCAR took a little bit of the gear away at Martinsville," said Earnhardt. "That concerns me a little bit because you don't have the throttle response and the gear to drive out of the corner and to gain on a guy that can't get in the gas, but it also doesn't allow the engine to do any of the engine braking on deceleration."
And that could be harder on the race cars.
"When you have less engine braking going into the corner, you have to use more physical braking to slow the car down," said Earnhardt.
As a result, the team will modify Earnhardt's cars and he will adjust his driving style.
"We'll just have to put more cooling on the brakes and the (tire) beads and all that, and try to remember when we're in traffic not to really use the brakes all that much or get too aggressive," Earnhardt said.
"When you're running alone or you have some room between you and the guys behind you, you need to start lifting around the flag stand and brake very lightly to take care of your brakes."
Earnhardt said he doesn't expect NASCAR's new low-downforce package, which has produced great racing so far this season, to have much of an impact this weekend. That makes sense given that Martinsville is the slowest oval on the circuit.
"Maybe we'll be a little looser into the corner, but we're always kind of loose on entry there," Earnhardt said. "I don't want us to use more brakes, so we'll maybe have to lift a little earlier, but it won't be a huge difference in drive off because you're not really going fast enough to get the aero as part of the handling equation."