Dale Earnhardt Jr. to honor fallen Marine on Coco-Cola 600 car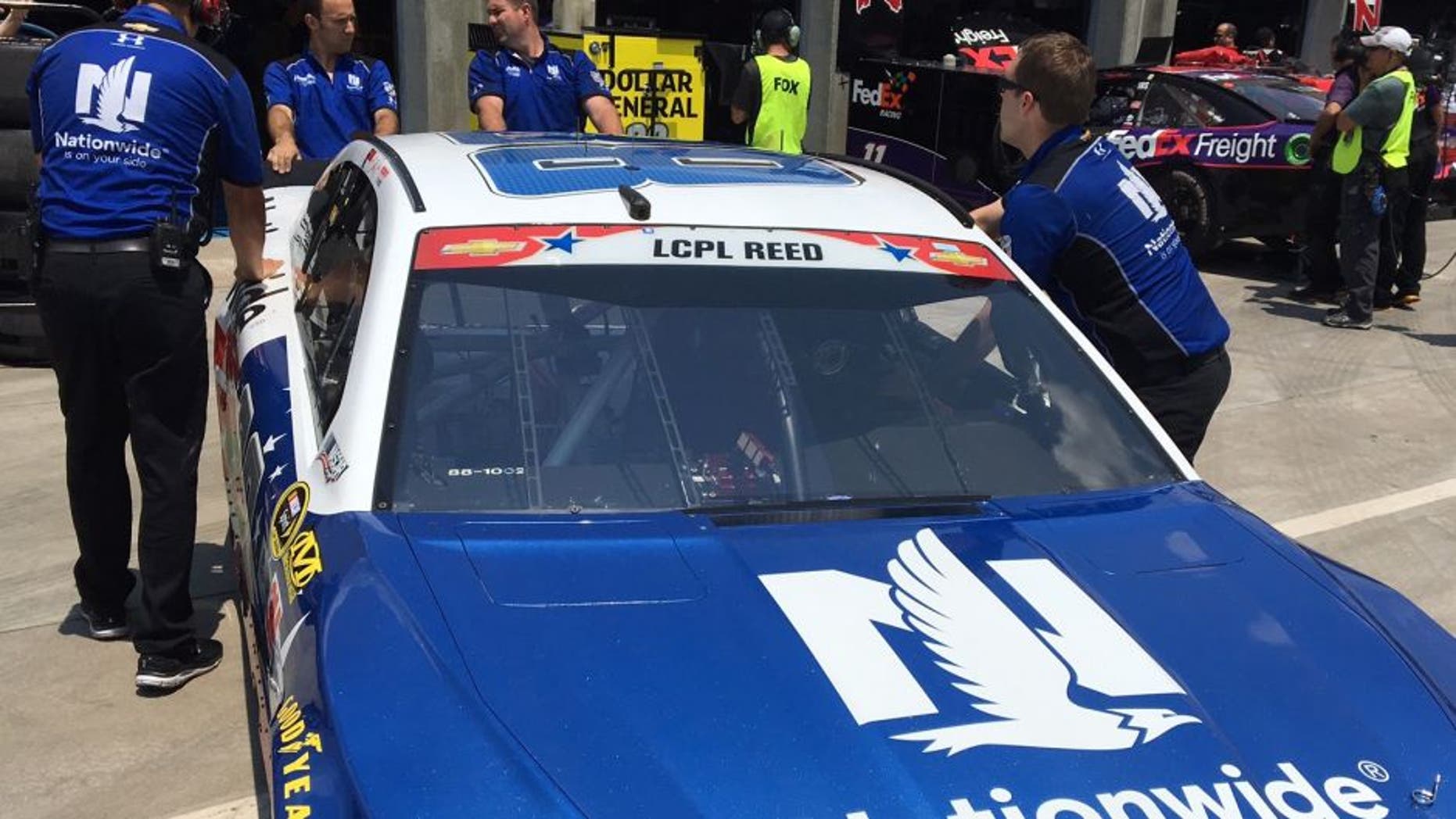 Nearly 11 years after his death, Lance Corporal Aaron Reed is still a hero, both to his family and friends and to students in rural southeastern Ohio.
Reed's story epitomizes soldiers and small-town America.
A native of Chillicothe, Ohio, Reed was senior class president and ran track and cross country at Southeastern High School.
After high school, Reed joined the Marine Corps, where he became a Lance Corporal. He was killed in action near Barwanah, Iraq, on Aug. 3, 2005, while serving with the 3rd Battalion, 25th Marine Regiment, Fourth Division, Lima Company.
Reed and his fellow members of Lima Company were riding in an amphibious assault vehicle when it struck an improvised explosive device, killing all the soldiers in the vehicle. Reed was just 21 years old when he died.
This weekend at Charlotte Motor Speedway, Reed will be memorialized with his name on the windshield of Dale Earnhardt Jr.'s No. 88 Hendrick Motorsports Chevrolet.
Every car in Sunday night's Coca-Cola 600 will likewise carry the names of fallen soldiers on the windshield.
Reed's mother, Sara Duvall, and several friends and family members will be at the track as the guests of the No. 88 team. It will be an intense weekend.
"Any time we have any kind of celebration or anything, it's a roller coaster," Duvall told FOXSprots.com. "There's that high that you're really, 'Oh, this is wonderful, they're honoring my son' and then there's the low of the roller coaster, that says, 'Well, you know, he's still gone.' It's a very emotional time."
That said, Duvall was pleased by what NASCAR and the teams are doing this weekend.
"I'm just extremely honored that after almost 11 years, that people are still remembering and honoring Aaron -- it's not just Aaron, it's all veterans," said Duvall. "It's all those who came back and all those who didn't and their service and their commitment."
Duvall described her son as energetic and a leader.
"Aaron was ornery," she said with a quiet laugh. "He could get into stuff. He could get into trouble every now and then. He was very well liked. He was senior class president, he was on the student council, he was track captain. He was a very outgoing person."
And those close to him made sure Reed's legacy would survive him.
"After he died, our house was just filled with his friends, and they came and said, 'What can we do? We're devastated. How do we go on from here?'" said Duvall.
"And I said the best thing you can do is set up a scholarship fund," said Duvall. "They did, and I'm so proud to be able to say to you that we have been able to give away 56 scholarships ($1,000 each) in his name over the last 11 years.
"Those kids, his friends, my family, have worked real hard to earn that money and to have a legacy of 56 scholarships so far, and we're planning on doing another 10 next year, we hope."
"Aaron H. Reed was many things to many people," wrote the Associated Press in his obituary. "He was the boy who never gave up on the track team. He was the one who taught his friend how to drive a standard truck. A man that friends said would make a great father someday. All who knew him recalled his smile and his laugh. They remembered when he laughed he would push his glasses up. Nearly every photo of Reed, with the exception of his military picture, shows his trademark grin."
And that is the legacy of Lance Corporal Aaron Reed, the legacy of a hero that will continue.