Dale Earnhardt Jr.'s day comes to an early end at Bristol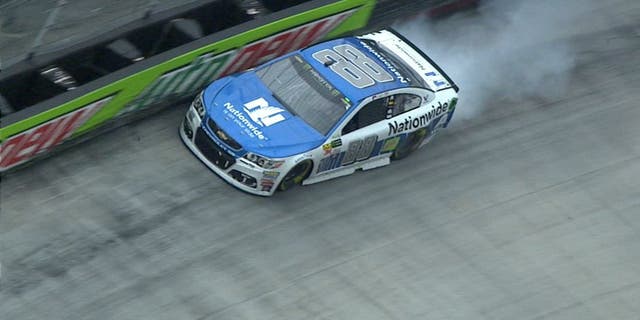 NEWYou can now listen to Fox News articles!
BRISTOL, Tenn. -- After waiting an extra day to race at Bristol Motor Speedway because of a rain delay, Dale Earnhardt Jr.s Food City 500 came to an early end on Monday.
As the field got up to speed on a restart on Lap 218 of the 500-lap Monster Energy NASCAR Cup Series race, Earnhardts No. 88 Hendrick Motorsports Chevrolet went straight into the wall in Turn 1 after the oil cooler appeared to break loose in his engine, sending oil spewing everywhere.
We came out of the pits and there was some oil in the pit stall, Earnhardt told FOX Sports. I noticed when I was getting lined up double file (for the restart), it started smoking. I dont know why.
But we got oil all over the engine compartment. And when we got to the corner, it went straight into the wall. I dont know whats broken, but I think thats the end of the day.
It was indeed the end of Earnhardts day. It was only the third DNF of his career at Bristol, and the first time it was because of a mechanical failure.
Earnhardt Jr. said he felt fine after the incident, but went to the infield care center as required by NASCAR rules to make certain.