Dale Earnhardt Jr. on loose wheel at Talladega: 'I had to bail out'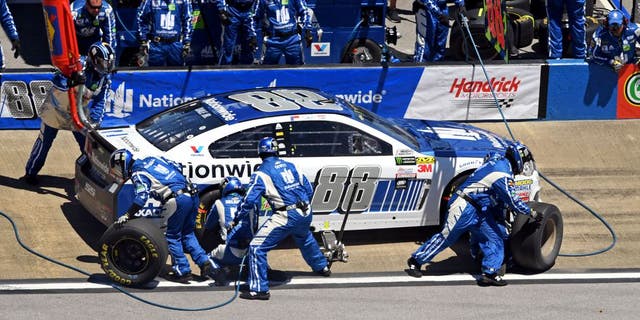 TALLADEGA, Ala. A loose left-rear wheel ultimately separated Dale Earnhardt Jr. from a potential seventh victory at Talladega Superspeedway.
With 14 laps remaining, Earnhardt radioed to the crew that he felt like he had a wheel coming off, relinquishing the third-place spot after electing to nurse his No. 88 Hendrick Motorsports Chevrolet back to pit road.
Crew chief Greg Ives confirmed the left-rear wheel was loose and only one lug nut was tight.
I thought I had a wheel come off, Earnhardt said. The guys said it was similar to the issue we had in Atlanta. It was pretty bad. We were about to wreck. Lucky to get to pit road and get it changed before the left-rear tire came loose. We didnt change it on the last stop.
After spending the majority of first two stages around the middle of the pack, Earnhardt and others made their final round of pit stops with less than 45 laps to go. That's when his team elected to take only right-side tires.
Earnhardt was able to make his way back up to 12th before Ryan Blaney brought out the caution after slamming the backstretch wall with 27 laps to go. Following a 27-minute red-flag period due to a massive 18-car wreck, Earnhardt restarted the race in third.
He then received the free pass following a caution for Landon Cassill with 10 laps remaining. The No. 88 crew put a wheel spacer on it to fix the issue during the caution period.
The glue build-up on the stud didnt allow them to get the tire tight and it kind of just worked its way loose, Earnhardt said. I hated it because we were right there in position to get a good finish and win the race.
After all the chaos, Earnhardt was only able to rally back for a 22nd-place finish.
Im glad we were able to rebound and get a couple spots late, but we just didnt get in the right lane, Earnhardt said. Our car wasnt very good in the pack. In traffic, it wasnt very good at all. We didnt run many laps inside the top five or the top 10 all day because the car really didnt have a lot of speed.
We have to work on that if we can, he added. The car runs great by itself and out front, Im sure it would have been great. We just have to see what were doing with the car and see where we can improve.
In hindsight, Earnhardt knows he made the right decision, indicating he didnt feel like he had a tight left-rear wheel the entire race.
I had to bail out, he said. That was a hard decision to make. It wouldnt have made it another lap or two.
As far as the racing we saw on Sunday, Earnhardt had his own opinions.
Im not a big fan of some of the things the cars do and how they react to one another, Earnhardt said. We just get stuck side-by-side too easily, so its harder to make passes and create passes. When they changed the engine a couple years ago, it changed the way the draft worked. I havent really liked it as well. It took a lot of speed out of the cars as far as how they create runs, maintain runs and put together passes.
Overall, it was a frustrating day for Earnhardt in his final spring race at 2.66-mile track before he retires from full-time racing at the end of the season.
It was very disappointing, Earnhardt said. The wheel was coming off and I thought I had a flat tire. (Jamie) McMurray said it the tires were fine, but something just wasnt right. Im glad I got out of there when I did. We wouldnt have made it to the end of the race and that would have been pretty catastrophic.