Dale Earnhardt Jr. fastest in test session at Phoenix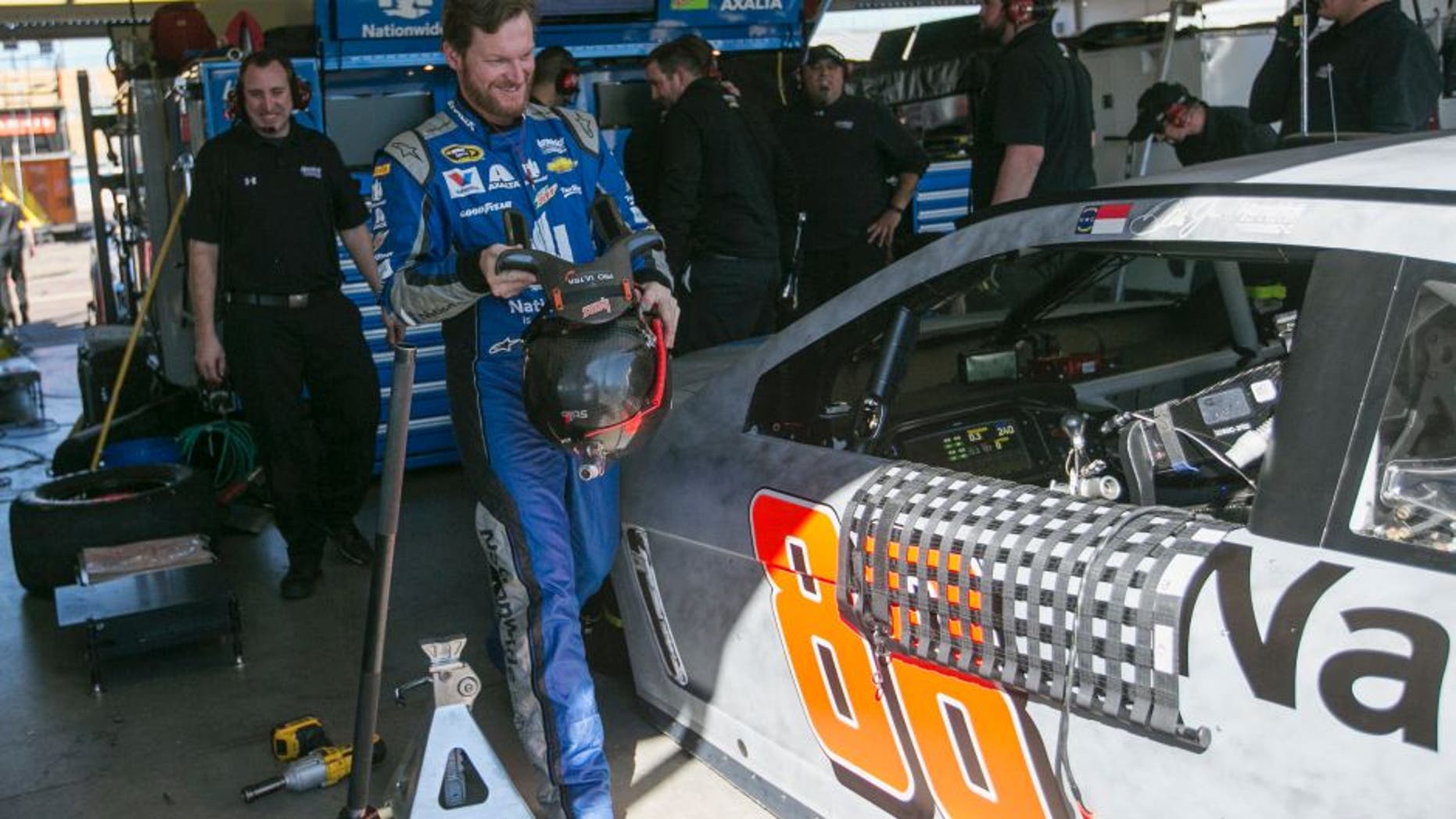 Dale Earnhardt Jr. can't get to Daytona International Speedway for the 2017 Daytona 500 that will be televised live on FOX fast enough.
And if the two-day NASCAR test session that wrapped up Wednesday at Phoenix International Raceway is any indication, he will be going plenty fast once he gets there.
Back behind the wheel of his No. 88 Hendrick Motorsports Chevrolet after missing the second half of last season because of a concussion, Earnhardt turned 13 of the fastest 15 laps in Wednesday's first session, the third overall for the two-day test at PIR. That included the fastest lap overall of Wednesday's opening session, when Earnhardt made it around the 1-mile track in 26.555 seconds.
Earnhardt said earlier at Phoenix that he doesn't think he necessarily has anything to prove to anyone heading into this season. Nonetheless, what he accomplished at PIR over the last two days was a clear indication that he continues to move -- and quickly -- in the right direction to put the frustration and disappointment of last season in his rear-view mirror.
"My fans want me to win and my fans are wanting us to go out there and have a great year, win the championship," Earnhardt said. "I don't know if that is something to prove, but there is that expectation to compete and go do well. I think that is a similar kind of pressure."
Even though he has yet to win a NASCAR Premier Series championship, Earnhardt owns 26 career wins. Prior to coming to NASCAR's top series in 2000, he also won back-to-back championships in what is now the XFINITY Series.
"I have a habit of looking at statistics," Earnhardt said. "Aside from Matt Kenseth, there is no active driver with more laps in this series. I think I'm 19th and Kenseth is 18th of all-time drivers with most laps completed. Everybody in front of us is retired. I'm in the top three in average finish, I think, or average winning percentage in the XFINITY Series. I mean, these are little statistics that I'm proud of. No one will ever talk about them, but these are things that I go, 'Wow, I had a hell of a time and did way more than I ever thought I would.' "
With two Daytona 500 victories also on his resume, the 41-year-old Earnhardt said he's plenty content with what he has accomplished to date in the sport.
"I've said this 100 times: I have done everything I already thought I would do. I've done more than I thought I was capable of doing," he said. "I've accomplished more than I ever thought I would have the chance to accomplish. I just never thought it would happen. I look at my trophies and can't believe they are mine."
That doesn't mean he wouldn't mind adding a few more before he's done racing.
"I feel pretty fulfilled, but every year the things that kind of motivate me to want to win more, want to do more, are my guys (on the team) -- (crew chief) Greg (Ives), making people happy, those guys happy, making my fans happy," Earnhardt said. "All the support that we see on social media, one-on-one at the race track or appearances, all that stuff motivates you to keep going, keep racing and keep trying to win."
He also said he is proud of his accomplishments and has never worried much about those who harp on how he -- like virtually every other driver to buckle into a car in the sport's history -- hasn't quite been able to measure up to his father's greatness. The late Dale Earnhardt won a total of 76 races and his seven Premier Series championships are tied for most of all time with Richard Petty and Jimmie Johnson.
"I am blown away by how fortunate I have been," the younger Earnhardt said. "My Dad was so great. I've seen so many drivers try to fill in their father's shoes, so many second-generation drivers come in and just have a hard time for whatever reason. I feel lucky that I was able to get a little success."
Here were the best single lap times from the first PIR test session on Wednesday:
Dale Earnhardt Jr. (Hendrick Motorsports) -- 26.555 seconds
Kyle Larson (Chip Ganassi Racing) -- 26.583
Erik Jones (Furniture Row Racing) -- 26.625
Kevin Harvick (Stewart-Haas Racing) -- 26.685
Joey Logano (Team Penske) -- 26.690
Daniel Suarez (Joe Gibbs Racing) -- 26.710
Ricky Stenhouse Jr. (Roush Fenway Racing) -- 26.713
Austin Dillon (Richard Childress Racing) -- 26.741
Ryan Blaney (Wood Brothers Racing) -- 26.750
Aric Almirola (Richard Petty Motorsports) -- 26.755
AJ Allmendinger (JTG Daugherty Racing) -- 26.763
Ty Dillon (Germain Racing) -- 26.848
Alex Bowman (Chevy wheel force) -- 27.116
Michael McDowell (Leavine Family Racing) -- 27.244
JJ Yeley (Toyota wheel force) -- 27.278
Landon Cassill (Ford wheel force) -- 27.622