Dale Earnhardt Jr. after XFINITY broadcast: 'Working the booth was a blast'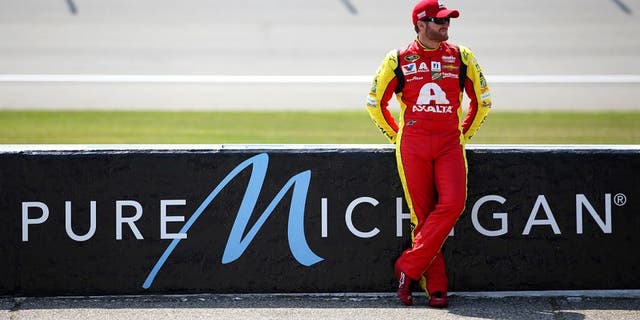 NEWYou can now listen to Fox News articles!
Dale Earnhardt Jr. might just have a future in broadcasting if he wants it after his racing career as a driver comes to an end.
Earnhardt became the eighth Sprint Cup Series driver to serve as a guest driver analyst in the FOX NASCAR booth in 2016, following Kevin Harvick, Brad Keselowski, Joey Logano, Carl Edwards, Denny Hamlin, Clint Bowyer and Danica Patrick.
By all accounts, he did a fine job helping play-by-play announcer Adam Alexander and FOX Sports analyst Michael Waltrip call Saturday's Menards 250 XFINITY Series race at Michigan International Speedway.
Afterward, Earnhardt told the NASCAR on FOX viewers on-air that he was very impressed with race-winning driver Daniel Suarez, who became the first driver from Mexico to win a race in one of NASCAR's top three national touring series.
"He made a statement today that he's the real deal," Earnhardt said. "This guy is going to have an opportunity at the next level. I think a lot of people already knew that -- but if they didn't, they found out today. Daniel Suarez is a name that is going to be around for a long time."
When Alexander asked Earnhardt if he learned anything watching the XFINITY race from the booth that he might be able to put to good use when he's driving Sunday in the Sprint Cup race on the same track, Earnhardt quickly answered in the affirmative.
"The things that I learned are that the right-rear tires blistering, that's a concern," he said. "We have the same tire tomorrow, and we're definitely going to try to run our car pretty free ... so we might have to watch what happens tomorrow with that tire wear."
Earnhardt, who has had success at Michigan with two career Cup wins on the 2-mile track, has been known to favor running the high line. But he added that after watching Saturday's XFINITY race that it's unlikely viewers will see much of that from anyone, himself included, during Sunday's Cup race.
"I don't think anybody really used the higher side of the groove to their advantage," he said. "I think you'll see guys working the low side of the track like Suarez did late. That's where the speed is going to be late in the race, I believe."
Later, Earnhardt took to Twitter to offer his thanks to Alexander, Waltrip and the entire NASCAR on FOX television crew for the announcing opportunity. Well, here's a big thanks right back at you, Junior.