Daily Fantasy Baseball Advice for May 18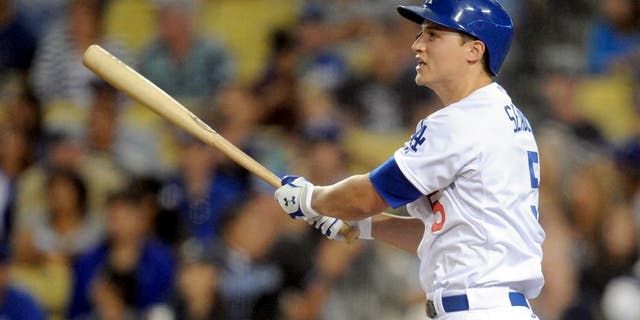 NEWYou can now listen to Fox News articles!
Welcome to today's daily fantasy post! Remember that you can find our posts on the new DFS home page, as well as the fantasy page. Bookmark those sites now!
Also, please scroll to the bottom of this article to see the latest tweets from Ryan Fowler (@FOXSportsFowler), D.J. Foster (@FOXSportsFoster), Adam Meyer (@FOXSportsMeyer) and me (@jhalpin37). That way, if information surfaces for any last minute changes, you can see our thoughts instantly.
Let's get to today's interesting facts, using DraftKings prices. We'll mostly cover the 12-game night slate, which includes the nightcap of the Red Sox-Royals doubleheader. Please note that much of the information in this post is being published several hours prior to game times, so check MLB lineups later to confirm that any recommended players are included.
5 Things to Watch:
1. Because he's facing the Braves, Francisco Liriano ($10,400) is the biggest favorite on the board at -179. The inconsistent Liriano has three starts of 25.4 or more DK points, and three more of 5.3 or less. The league-worst Braves' lineup has been especially bad vs. LHP, posting a .248 wOBA with a .543 OPS, and whiffing in 25.6 percent of its at bats.
2. Remember that David Price ($10,600) made a mechanical tweak prior to his last start, and posted a 36.8-point outing versus the Astros. Price's rebound has likely begun.
3. Yo, BvPers: Josh Donaldson ($4,700) has three homers in 14 at bats vs. Jake Odorizzi ... Jon Jay ($2,800) has 13 hits and three homers in 33 at bats vs. Johnny Cueto, but has been battling a shoulder injury. Make sure he's in the lineup ... Hunter Pence ($3,900) has three homers in 11 at bats vs. Drew Pomeranz ... Robinson Cano ($5,000) has 14 hits with a couple of homers in 31 at bats vs. Chris Tillman ... Alexei Ramirez ($2,500) has nine hits in 14 at bats vs. Johnny Cueto.
4. Yankees-Diamondbacks has the highest projected run total at 9.5. A Yankee stack won't be all that popular, either.
5. Bargain hunters: Curt Casali ($3,000) has three homers in his last 10 games, and faces the very hittable R.A. Dickey ... Chris Carter ($3,500) has hit nine of his 11 home runs at Miller Park ... Speedy Reds 2B Jose Peraza ($2,800) has batted second, seventh and eighth in his three starts, and faces Indians rookie Mike Clevinger tonight. Let's hope Peraza bats high in the order ... Rays rookie SS/3B Taylor Motter ($2,700) batted second on Sunday, and slugged a pinch homer on Monday. If he happens to play tonight, he'll be an interesting option. Motter hit 14 homers and stole 26 bases at Triple A last season ... Alexei Ramirez's success vs. Johnny Cueto is noted above. It's not a big sample, but Ramirez is cheap, and usually bats sixth or higher ... Rajai Davis isn't extremely cheap at $3,500, but as the likely leadoff hitter vs. southpaw Brandon Finnegan, he's a terrific play. Davis has a career .347 wOBA vs. LHP.
Below are D.J. Foster's recommendations for the day!
Yesterday's recap:
John Halpin and Adam Meyer recommended Madison Bumgarner, who hurled a complete game with 11 strikeouts. Meyer also gave you some killer value plays, as Tommy Joseph, Jake Lamb and Joc Pederson all homered. Let's move on to Wednesday.
Must-Start of the day: Corey Seager, LAD
He's our stack leader on Wednesday. The young phenom has been on fire as of late with a 1.239 OPS over his last ten games, including three HR over his last three.
Deal of the day: Adam Wainwright, STL
I totally understand if you blow this suggestion off, but a pitcher with Wainwright's lifetime numbers at just $5800 against a Rockies team that tends to struggle away from home seems like a killer deal, despite all his awfulness this season. It doesn't hurt that he's a -158 favorite in a game with a relatively projected run total (8) either.
Avoid of the day: Hanley Ramirez, BOS
Ramirez has been red-hot lately, but Ian Kennedy is a better pitcher than he gets credit for. Ramirez is just 4-for-24 with no XBH against him lifetime.
Stack of the day: Los Angeles Dodgers
Nick Tropeano has given up seven home runs in his last four starts, which bodes well for some of the Dodgers' bigger bats. Cheap options like Yasiel Puig ($3500), Justin Turner ($3200) and Yasmani Grandal ($3200) make this a very affordable stack.
Starting pitchers:
Adam Wainwright, STL: "Deal of the day"
Johnny Cueto, SF: I'm not getting cute. Targeting the Padres at Petco with elite pitchers like Cueto is easy money, and the projected run total of 6.5 should tell you everything you need to know. He's the safest pitcher on the board.
Francisco Liriano, PIT: Maybe I'm too big on the redemption theme for Wednesday, but I like Liriano's chances against the league's worst offense in Atlanta. Despite all the control issues, the strikeout power has been there.
Catchers:
Buster Posey, SF: .891 OPS against LHP this season.
Yadier Molina, STL: .939 OPS over his last ten and gets a favorable lefty-righty matchup.
First basemen:
Joe Mauer, MIN: 1.009 OPS lifetime against Justin Verlander in 68 at-bats.
Joey Votto, CIN: I like his upside at just $4000, and his walk rate should put him in position to have a high baseline.
Second basemen:
Robinson Cano, SEA: 14-for-31 lifetime against Chris Tillman.
Ian Kinsler, DET: 7-for-20 with 3 XBH against Ricky Nolasco.
Third basemen:
Justin Turner, LAD: Very affordable and should start turning it on in a big way soon.
Josh Donaldson, TOR: 3 HR in just 14 lifetime at-bats against Jake Odorizzi.
Shortstops:
Corey Seager, LAD: "Must-start of the day"
Aledmys Diaz, STL: Still hitting .376 this season and we get to pick on Rusin. Underpriced at $3600.
Outfielders:
Yasiel Puig, LAD: Cheap and part of our Dodgers stack.
Joc Pederson, LAD: Homered last night, going back to the well against Tropeano.
Stephen Piscotty, STL: .432 career wOBA against LHP and in a great matchup against Chris Rusin.
Hunter Pence, HOU: 3 HR in 11 lifetime at-bats against Drew Pomeranz.
Giancarlo Stanton, MIA: Overdue for a homer, and Hellickson has given up nine already this season.
Tweets from https://twitter.com/FantasyOnFOX/lists/fox-sports-fantasy