Daily Fantasy Baseball Advice for August 6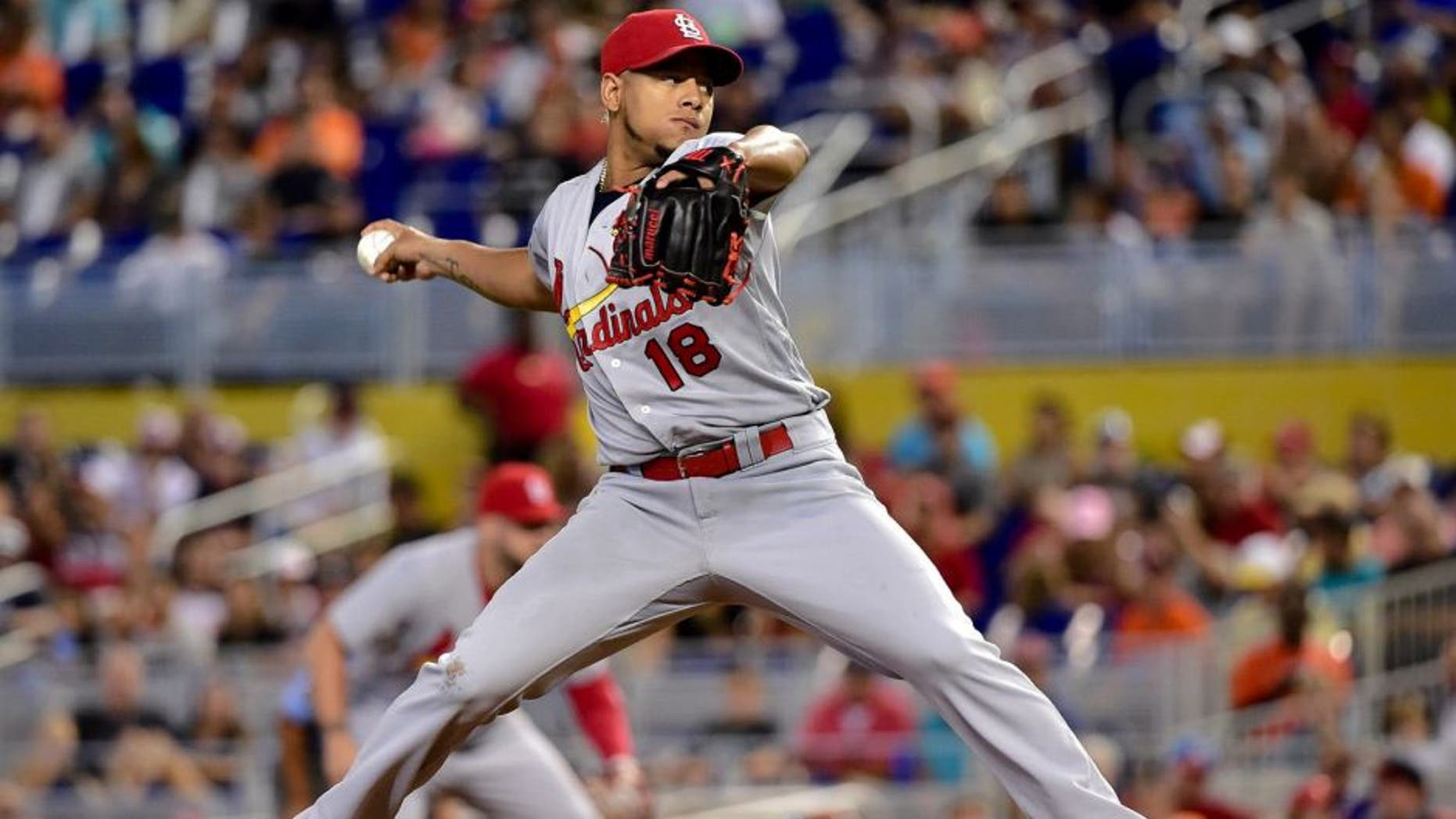 Welcome to Sunday's daily fantasy post! Remember that you can find our posts on the brand-spanking new DFS home page, as well as the fantasy page. Bookmark those sites now!
Let's get to Saturday's interesting facts, using DraftKings prices.
Five Things to Watch:
1.Here are the three highest projected over/unders, provided by OddsShark...
MIA-COL 11.5
MIL-ARI 9.5
NYM-DET 9.5
2. Weather: We should be all clear for Saturday's slate.
3. You down with BvP? Melky Cabrera is 9-for-24 lifetime against Chris Tillman. David Freese is 6-for-20 with 2 HR against Homer Bailey. Nolan Arenado is 7-for-20 against Andrew Cashner. Buster Posey is 7-for-18 against Stephen Strasburg. Carlos Santana is 8-for-17 against CC Sabathia.
4. Your three biggest pitching favorites for the night: Carlos Martinez (-260) against the Braves, Stephen Strasburg (-230) against the Giants and Jake Arrieta (-200) against the A's.
5. Sneaky stack options: Both the Phillies and Padres, believe it or not, are in play as they are both trotting out young, unheralded pitchers. The Brewers have a few players who hit lefties hard (Braun, Carter Villar, etc.) and get Patrick Corbin and his 5.30 ERA. If you really believe in the Blue Jays against lefties, they're all incredibly cheap against Danny Duffy.
Must-Start of the day: Carlos Martinez, STL
He's the biggest favorite of all the games on today's slate, as he gets the league's worst lineup in OPS in the Atlanta Braves. Martinez has been great all year (2.99 ERA) and although he may not rack up the strikeouts, he should be in line for an easy win with no damage. He feels like a sure thing at $9800, which is pretty reasonable given his matchup.
Deal of the day: Aaron Altherr, PHI
He's shown some power (2 HR) and speed (3 SB) in his first eight games, and he gets a matchup here against the combustible Paul Clemens. He's averaging 12.4 points per game so far, yet he's still only priced at just $3000 in a great matchup. He's a steal.
Avoid of the day: Danny Duffy, KC
Duffy has been excellent (126 K in 108 IP, 2.98 ERA) this season, but I have a hard time using him as the highest priced pitcher on the board against a group of hitters that smack around lefties in the Jays. Paying $12,900 to face the Donaldson-Bautista-Encarnacion-Tulowitzki middle of Toronto's lineup isn't ideal.
Stack of the day: St. Louis Cardinals
Yes, it will be hard to avoid Miami and Colorado in Coors Field, but the Cardinals should rack up the runs against journeyman pitcher Roberto Hernandez, who will be making his first start this season. The Cards are fairly priced and have the kind of depth against a bad pitcher that makes for a perfect stack candidate.
Starting pitchers:
Carlos Martinez, STL: Must-start of the day
Stephen Strasburg, WAS: I like Martinez's price a lot better, but Strasburg has a lot of upside on Saturday as well. We know the strikeout power is there, and the matchup against Matt Cain should lead to plenty of run support. If you can afford him, the 15-1 pitcher has a strong chance to add another win to that total.
Matt Boyd, DET: If you need to save some cash, you can pick on the Mets lineup a little bit. Boyd is just $6800 and is averaging nearly a strikeout per inning so far this season. More importantly, a matchup with Logan Verrett should grant him plenty of run support.
Catchers:
Cameron Rupp, PHI: Opposing pitcher Paul Clemens has been a mess and Rupp is hitting .310 with 3 HR over his last seven games.
Yadier Molina, STL: Part of our Cardinals stack, and he's cheap at $3500. Over his last ten games, he owns a 1.050 OPS as well.
First basemen:
Miguel Cabrera, DET: On a roll hitting .429 with 4 HR in his last seven games and gets Logan Verrett.
Joey Votto, CIN: Ivan Nova struggles with left-handed bats (.376 wOBA) and Votto is hitting .417 over his last ten games.
Second basemen:
Trea Turner, WAS: Gets the very hittable Matt Cain and he's hitting .300 with 2 HR and 2 SB over his last seven.
Daniel Murphy, WAS: Go with one of the Nats at second base. Murphy owns a 1.246 OPS over the last ten games and Matt Cain gets rocked (.404 wOBA) against left-handed hitters.
Third basemen:
Matt Carpenter, STL: A big part of our Cardinals stack.
Josh Donaldson, TOR: It's not often you'll find him for just $4700, even though the pitching matchup is a tough one.
Shortstops:
Jonathan Villar, MIL: The Brewers make for a good mini stack, and Villar can win you a game with his speed.
Brad Miller, TB: Red-hot right now hitting .333 with 5 HR over his last seven games.
Outfielders:
Ryan Braun, MIL: Great against left-handed pitching (1.016 OPS this year) and his game has a high projected over/under.
Aaron Altherr, PHI: "Deal of the day"
Bryce Harper, WAS: Again, Matt Cain really struggles with powerful left-handed bats.
Tweets from https://twitter.com/FantasyOnFOX/lists/fox-sports-fantasy