Daily Fantasy Baseball Advice for April 28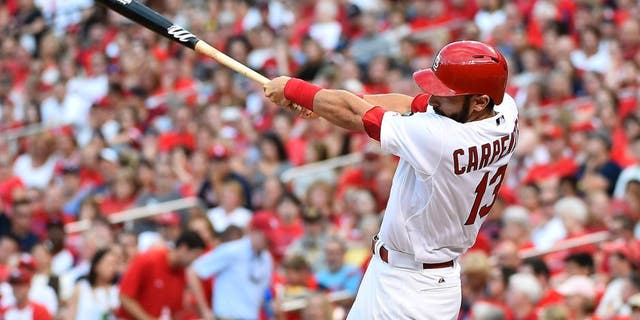 NEWYou can now listen to Fox News articles!
Welcome to today's daily fantasy post! Remember that you can find our posts on the brand-spanking new DFS home page, as well as the fantasy page. Bookmark those sites now!
Let's get to Thursday's interesting facts, using DraftKings prices. We'll cover both the day (four games) and night (four games) schedules.
Five Things to Watch:
1. Rain is in the forecast for all four day games - Detroit and Chicago look the most dicey - and the White Sox-O's game at night. Unless you're going to keep a very close eye on the weather, you should probably avoid the day slate.
2. Jake Arrieta ($13,600) is the biggest favorite on the board. Let's hope the rain stays away from Wrigley if you decide to pay up for him.
3. Tanner Roark's four starts, in DK points: 1.8, 23, 4.1, 46.8. Roark's salary is $7,800, and he faces the weak-hitting Phillies.
4. The highest projected total for the day is Pirates-Rockies with 11.5, which makes sense since those teams combined for 13 runs on Monday and 17 on Tuesday. On the night slate, both White Sox-O's and Cardinals-Diamondbacks have projected totals of nine runs.
5. Cardinals SS Aledmys Diaz ($3,600) has 13 hits in his last 22 at bats, and has a 1.323 OPS on the season. He bats eighth, but in a four-game night schedule, how picky do you want to be?
Yesterday's recap: Steven Wright was a great call as D.J. Foster's "Deal of the day," racking up 29.55 DK points. Must-start Adrian Beltre had a hit and an RBI, which wasn't too bad.
Must Start of the day: Matt Carpenter, STL
Rubby De La Rosa can't get lefties out - their career wOBA against him is .377. Carpenter ($4,400) crushes RHP, with a career wOBA of .373 and an .856 OPS against them. Carpenter is also averaging 14.25 DK points over his last four games.
Deal of the day: Brandon Drury, ARI
D-backs 2B/3B Brandon Drury ($2,200) homered on Wednesday, and has three double-digit DK points over his last four games. Make sure he's in the lineup, of course.
Avoid of the day: Adam Jones, BAL
BvP isn't exactly the holy grail of analytics, but Adam Jones is one-for-33 in his career vs. John Danks. Yikes!
Stack of the day: St. Louis Cardinals
As noted above, use the lefthanded hitters against De La Rosa - Carpenter, Jeremy Hazelbaker, Brandon Moss, even Kolten Wong if he plays. To paraphrase my friend Matt Moore, the lefties have a fight at the bat rack over who gets to bat first when Rubby pitches.
For the positional picks, we'll include both day and night selections.
Starting Pitchers:
Tanner Roark, WAS: See "5 Things" note above. Using Arrieta makes you focus too much on mediocre hitters, and he's a rainout worry.
Kenta Maeda, LAD: At $10K, Maeda is a -140 favorite over Jose Fernandez and the Marlins. I'd probably avoid him on a larger slate of games, but it's also not worth arguing too much about a guy with a 0.36 ERA in four starts.
Catchers:
Chris Stewart, PIT: This assumes a day off for Francisco Cervelli after three consecutive starts. Stewart isn't much of a hitter, but he's $2,700 at Coors.
Welington Castillo, ARI: At $3,200, Castillo has averaged 17.66 DK points over his last six games.
First Basemen:
Ryan Howard, PHI: If you don't want to pay for Rizzo or Miggy, Howard ($3,500) still has some pop in his bat.
Brandon Moss, STL: See "Stack of the day" note above.
Second Basemen:
Jed Lowrie, OAK: Lowrie has been batting fourth or fifth for the A's, has averaged 7.6 DK points over his last nine games, and goes for just $2,700.
Brandon Drury, ARI: See "Deal of the day" above.
Third Basemen:
David Freese, PIT: Freese bats third and has averaged 13.25 DK points over his last four games. At $3,900, he's a good deal for a Coors hitter.
Matt Carpenter, STL: See "Must-Start of the Day" above.
Shortstops:
Addison Russell, CHC: If you don't want to pay $5K for Trevor Story, Russell ($3,800) has averaged 12.25 DK points in his last four.
Manny Machado, BAL: Machado ($4,600) is hitless in hit last four games, but he's too good a hitter to be this cheap vs. Danks. And as noted above, we won't complain if you use Aledmys Diaz.
Outfielders:
Carlos Gonzalez, COL: The Rox are six games into a homestand, and CarGo hasn't homered yet. He's due!
Gerardo Parra, COL: I know, I know ... another Rockie. But Parra is batting leadoff these days, and he's hard to pass up at $4,200.
Jeremy Hazelbaker, STL: See "Stack of the day" note above.
Tweets from https://twitter.com/FantasyOnFOX/lists/fox-sports-fantasy