D-man Hamrlik has withstood the test of time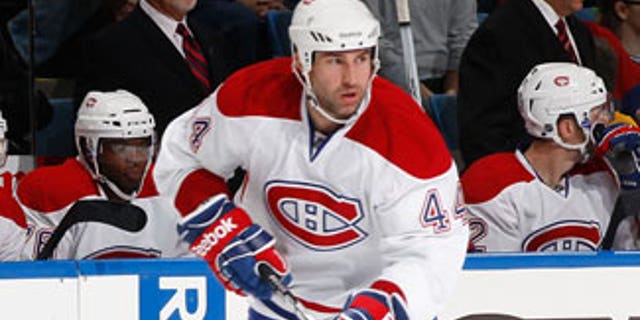 MONTREAL -- Montreal Canadiens defenseman Roman Hamrlik will be joining a select group of players Thursday night when he suits up for his 1,300th career game against the team that drafted him with the first pick in the 1992 Entry Draft, the Tampa Bay Lightning.
Hamrlik will become just the 49th player and 16th defenseman in NHL history to reach the 1,300 game mark, and he is one of only four active players -- along with Boston's Mark Recchi and Detroit's Mike Modano and Nicklas Lidstrom -- to play that many.
Even though Hamrlik has played for five NHL clubs over his 19-year career, he said what he will appreciate most about this moment will be the jersey on his back.
"The most special thing is playing this game with the Canadiens logo on my jersey," Hamrlik said Wednesday.
The list of NHL defensemen Hamrlik will be joining Thursday reads like a Hall of Fame roll call: Chris Chelios, Scott Stevens, Larry Murphy, Raymond Bourque, Phil Housley, Nicklas Lidstrom, Glen Wesley, Tim Horton, Luke Richardson, Al MacInnis, Harry Howell, Paul Coffey, Larry Robinson, Teppo Numminen and Red Kelly.
And Hamrlik says he has no intention of stopping any time soon.
"I still have lots of fuel in my tank," Hamrlik said. "Hopefully, I'm going to keep playing."
The Canadiens are going to need Hamrlik to be playing at his best Thursday night, as Jacques Martin's team will have five NHL-caliber defensemen out of uniform -- practically a full roster's worth of blueliners.
Hal Gill was at home with the flu Thursday morning and is extremely doubtful to play, Brent Sopel is still out with a hand injury, Jaroslav Spacek is recovering from arthroscopic knee surgery and is out until at least the playoffs, while both Andrei Markov and Josh Gorges are out for the season with knee injuries.
On top of that, forwards Tomas Plekanec and Jeff Halpern are out with lower-body injuries while Max Pacioretty (concussion/fractured vertebra) and Mathieu Darche (groin) are also out.
That's nine injured players, or half a regular complement of 18 skaters.
"We had our taxi squad on the ice this morning," Martin said, half joking.
The Canadiens will have five players in the lineup who have played for the AHL's Hamilton Bulldogs this season, including Wednesday call-ups Nigel Dawes and Aaron Palushaj, who will make his NHL debut.
"I think I'm going to thrive in this environment," Palushaj said of playing in the charged atmosphere of the Bell Centre. "If you can't get up for playing a game here, then you shouldn't be playing sports."
For Dawes, acquired in the deal with Atlanta that brought Sopel to Montreal, it will be another opportunity to show he is an NHL-caliber player. He's played 208 NHL games with three different clubs and scored 39 goals with 45 assists. In 55 games this season with the AHL's Chicago Wolves and Hamilton Bulldogs, Dawes has a league-leading 33 goals.
"There's always a fire that burns when you get sent down (to the minors)," Dawes said. "I know I can play at this level, it's just a matter of proving it night in and night out."
The injury-riddled Canadiens may be the perfect tonic for what has been ailing the Lightning.
Tampa won its last game Monday night in Toronto, but it was just the Lightning's second win in eight games and Guy Boucher's team has had to watch as the Washington Capitals opened up a five-point lead in the Southeast Division standings.