D-backs' Tony La Russa: I'm genuinely 'fired up' for spring training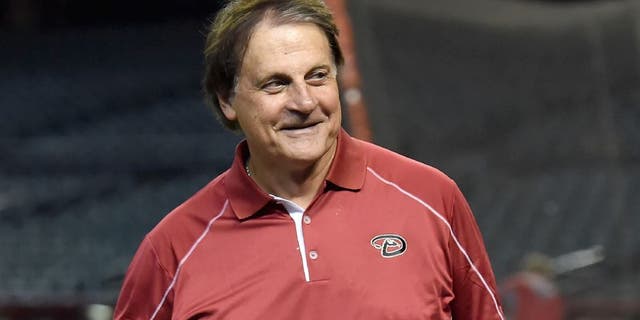 NEWYou can now listen to Fox News articles!
Tony La Russa's passion for the game of baseball can never be questioned.
Heading into his 51st overall spring training, the Arizona Diamondbacks' chief baseball officer is as enthusiastic as ever.
"It's exactly the same challenge as Chicago, Oakland and St. Louis," La Russa told the Arizona Republic. "I'm all fired up to see if we're good enough to win enough games to contend, first, good enough to get into October, good enough to get into that final tournament, which is so exciting.
"You can't fake this s---. I'm fired up."
While this is only La Russa's second spring training as a member of a major-league front office, he has experienced the glee of spring many times before.
In addition to his 32 years as a major-league manager with the White Sox, A's, and Cardinals, sequentially, La Russa spent two years as a minor-league manager.
In his playing days, the Tampa, Fla., native spent 15 seasons at the professional level and played games in seven years for major-league clubs.
La Russa has a reason to be eager for the coming season in particular, as he played a major role, alongside general manager Dave Stewart, in reshaping the Diamondbacks' roster in the offseason with splashy moves that have molded the club into a contender on paper.
The surprise acquisition of free-agent right-hander Zack Greinke and trade with the Atlanta Braves for young righty Shelby Miller arm Arizona with the starting pitching it has needed to complement its prolific offense and stellar defense.
Nonetheless, the moves haven't come without their share of critics, as Greinke is owed $206.5 million, and the D-backs parted ways with a huge haul of prospects, including 2015 No. 1 overall pick shortstop Dansby Swanson, in order to acquire Miller.
"If I'm wrong, I'm wrong," La Russa said. "I know what I've been taught for years. I was taught how to evaluate a player and how to evaluate how a team plays. That's my only skills, really."
As zealous as ever about his involvement in baseball, La Russa will approach this season with both curiosity and unbridled fervor.
"My agenda is exactly what it's been forever. I'm not just messing around trying to have some fun. I'm totally into seeing how good we can be," he said. "I'm excited to be a part of this and see if we're good enough."