D-backs still hold out hope for playoffs despite skid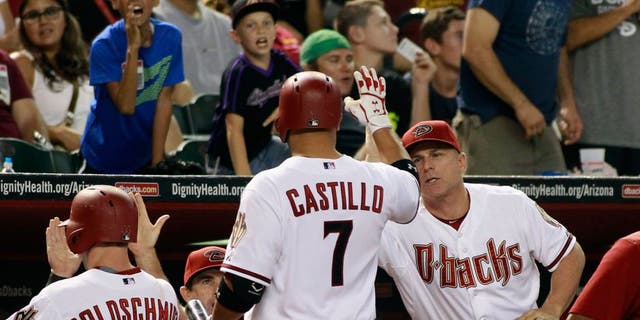 NEWYou can now listen to Fox News articles!
After a disappointing 1-6 homestand, the Arizona Diamondbacks have a microscopic chance of nabbing a postseason bid, but that's not preventing them from remaining optimistic about playing October baseball.
"A whole lot of poor play on this homestand," manager Chip Hale admitted after the D-backs ended a seven-game homestand with a 7-4 loss to the A's on Sunday. "It's disappointing after coming off a pretty good series in Cincinnati, but we just for some reason have not played well. That's on me and our coaches. We probably have to do a better job of preparing them and keeping them focused on the task. I'll take the blame for this."
Arizona picked an ill-timed juncture to have a bad week.
Playoff buzz began to brew for the D-backs after the team won its fourth-consecutive game last Sunday, improving its record to 62-61. However, after a 1-6 stretch, the Diamondbacks are 63-67, which slots them 9 ½ games back of the division-leading Dodgers in the NL West.
Nonetheless, general manager Dave Stewart thinks there's still hope for the D-backs, noting their upcoming schedule.
"I don't think that any of us, at this point, will say that we won't get to the playoffs because we still have to play the Dodgers, we still have to play the Giants and we can kind of seal our own fate," Stewart said. "This team has been resilient and has played well after periods of time when it looked like we were done and they come right back and put together a bunch of wins."
According to Baseball Prospectus, the D-backs had a 2.2-percent chance of winning the division after last week's four-game win streak.
Their chances now?
Zero-point-one.
(h/t MLB.com)