D-backs searching for answers to season gone wrong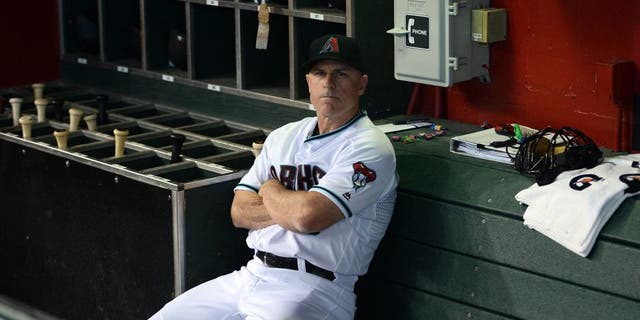 NEWYou can now listen to Fox News articles!
PHOENIX -- The Arizona Diamondbacks will enter the All-Star break a major disappointment.
A team that many picked to contend in the NL West is in last place in the division. At 38-49, the Diamondbacks are 16 games behind first-place San Francisco.
Most puzzling is the discrepancy between Arizona's record on the road (23-17) and its dismal performance at home (15-32). In the National League, only Atlanta has a worse home record.
Nobody in the organization seems to have a reason for the home woes.
"If we had the answer," manager Chip Hale said, "it wouldn't be happening."
The players are stumped. too
"We've all been trying to figure it out," reliever Tyler Clippard said. "I was asking some of the guys that have been here in the past 'What's the deal with playing here or being here?' and nobody really knows. It's very much a coincidental-type situation. It is what it is. I don't know."
Despite the record, the person in charge of the team -- chief baseball officer Tony La Russa -- remains supportive of Hale and his coaching staff.
"They're a competent, talented group," La Russa said.
He feels the same about the roster.
"No matter what the record is," La Russa said, "we like our potential, we like our talent."
The Diamondbacks surprised the baseball world by signing Zack Greinke to a six-year, $206.5 million contract. And they traded outfielder Ender Inciarte and two of their top prospects to Atlanta for Shelby Miller, penciling him in as the No. 2 starter.
After a shaky start, Greinke has been the pitcher he was supposed to be, winning seven consecutive starts with a 1.98 ERA in that span. He's 10-3 with a 3.62 ERA overall but goes into the All-Star break on the 15-day disabled list with a strained left oblique.
Miller, though, has been a disaster.
He is 2-9 with a 7.14 ERA. Miller went on the disabled list and worked in the minors to find his form. After some progress, Miller had another rough night Wednesday in a 13-6 home loss to San Diego. After blanking the Padres for three innings, he gave up five runs in the fourth when Arizona had a 4-0 lead.
"This is an organizational question," Hale said after the game. "How are we going to get him better."
Besides Greinke, the entire rotation has been underwhelming.
Patrick Corbin, expected to be a standout No. 3 pitcher, is 4-6 with a 4.90 ERA.
Archie Bradley, taking the place of injured starter Rubby De La Rosa, is 3-4 with a 4.81 ERA.
Robbie Ray is 4-7 with a 3.78 ERA.
Injuries to outfielders A.J. Pollock and David Peralta have hurt, but La Russa said every team has to deal with injuries.
"You play with what you have," he said. "We have good depth on this team and that's one reason we're disappointed our record isn't better, especially at home."
Not surprisingly, home attendance has dwindled. The 14,110 for Tuesday night's game against the Padres was the smallest home crowd in franchise history. La Russa isn't surprised.
"I just think it's on us to play better at home to where people are excited about our chance to win," he said. "I'm not disappointed in the fans. We're motivated to earn them."
There have been some bright spots.
Third baseman Jake Lamb, in his second full season in the majors, has 20 home runs and is tied for fourth in the NL with 61 RBIs. He's fit in nicely as the No. 4 hitter behind Paul Goldschmidt.
Jean Segura, acquired in an offseason trade with Milwaukee, was shifted from shortstop to second base and is one of the top leadoff hitters in the game. He's hitting .317 and is second in the National League with 108 hits.
And, after a slow start, Goldschmidt has been Goldschmidt. He's hitting .294 with 15 homers and 58 RBIs and was selected to the All-Star team for the fourth time.
But the team is underachieving.
"It's kind of funny how baseball is sometimes," Clippard said. "You feel like you're so close every single day to getting on a run, making a transition to being the club we think we can be. It just hasn't happened for us yet. Every day you come to the ballpark with that feeling. I know I do."