D-backs option Gosewisch to minors, tap Herrmann as backup catcher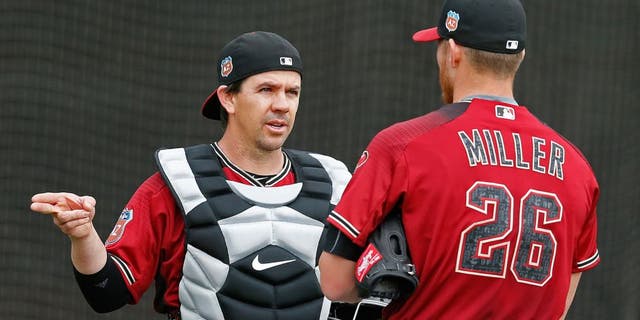 SCOTTSDALE, Ariz. -- The Diamondbacks on Thursday cleared up one aspect of their initial roster makeup when they optioned catcher Tuffy Gosewisch to Triple-A Reno after a 6-3 loss to the Rockies.
Gosewisch was in a competition with Chris Herrmann to be the backup catcher behind Welington Castillo. The D-backs weighed keeping all three, with Hermann's ability to also play some in the infield and outfield.
"We decided not to go with three catchers," Hale said. "Chris is a left-handed hitter. This is the way we're going to start. We felt having more flexibility the offensive guy, the last guy, who we're not sure who that's going to be yet. We're obviously narrowing it down."
Gosweisch was 6 for 42 (.143) with four doubles this spring. He was the team's opening day catcher a year ago and played in 38 games before a knee injury ended his season in late-May.
"These last three or four days are going to be difficult. These guys have busted their (butt) for me and our staff and our fans," Hale said. "It's hard, it's hard, it's hard to do these last few moves."
Herrmann, who already left the clubhouse when the move was announced, was hitting .353 early in spring before a hip injury sidelined him for 11 days. He is 8 for 35 (.229) with two exhibition games left.
Herrmann was acquired in a November trade with the Twins for minor league outfielder/first baseman Daniel Palka. He is a career .181 hitter in 389 plate appearances.
Along with the release of infielder Joaquin Arias earlier Thursday, the D-backs have 31 players in camp. The must get to a 25-man roster by 9 a.m. Sunday.
The D-backs figure to have one bench spot available, with Rickie Weeks Jr., Brandon Drury, Peter O'Brien and Jason Bourgeois in the running.
Right-handers Evan Marshall, Enrique Burgos, Jake Barrett and Silvino Bracho are in the running for the final bullpen spot, though a second spot could open if Josh Collmenter lands on the disabled list.