D-backs minor-league report: Shipley could be in line for callup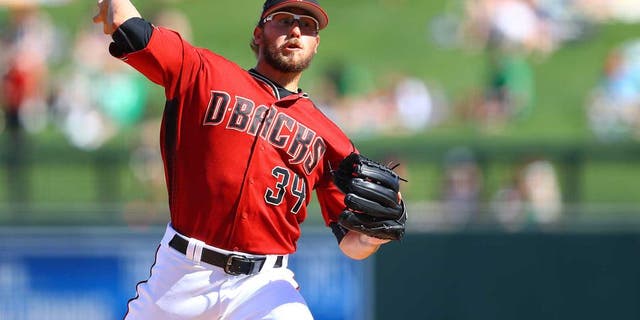 The Diamondbacks have yet to announce who will start Thursday's matinee game against the Washington Nationals and their ace Max Scherzer, but right-hander Braden Shipley is a logical candidate to get a callup from Triple-A Reno.
Shipley, who was 4-5 with a 5.27 ERA in 11 starts for the D-backs last season, had his best outing of the season for Reno on Friday night, pitching six scoreless innings in an 8-7 victory over Fresno. Shipley gave up seven hits, walked three and struck out three to improve his record to 3-1 with a 4.18 ERA. He's given up two earned runs or fewer in his last three starts for the Aces.
>>Sunday brought a pair of walk-off extra-inning victories for the D-backs organization, but they couldn't have come in more different fashion.
While the major-league D-backs were outlasting the Rockies 2-0 on Daniel Descalso's 13th-inning home run into the Chase Field pool, Reno was rallying to beat Fresno in an 11-10 slugfest.
The Aces tied it up in the bottom of the eighth on Oswaldo Arcia's two-run triple, then won it on Ildemaro Vargas' bases-loaded single in the ninth.
Arcia drove in four runs and was 4 for 5 at the plate, raising his average to .356. Christian Walker drove in a pair of runs and leads the PCL with 27 RBI.
>>Elsewhere in Reno, shortstop Ketel Marte had his 13-game hitting streak snapped on Friday, but he's still hitting .398 on the season, with hits in 20 of the 22 games he's played.
The Aces are 14-10 through Sunday's games, one game behind Tacoma in the PCL Pacific Northern Division.
Double-A Jackson
Outfielder Victor Reyes has 12 hits in his last 26 at-bats to take over the Southern League batting lead with a .365 average. Teammate Colin Walsh is second at .349 as the Generals (15-9) continue to hold first place in the Southern League's North Division, despite losing their last two games.
Jackson's Josh Taylor (3-1, 2.42) picked up his third win in Saturday's 7-4 victory over Chattanooga, giving up two earned runs in six innings. Brad Keller (2-0, 1.31), Alex Young (1-0, 1.83) and Taylor Clarke (2-1, 2.86) have teamed up with Taylor to give the Generals a formidable rotation.
Single-A Kane County
The Cougars (15-7) continue to get dominant pitching in holding first place in the Midwest League Western Division.
The most recent gem was tossed by left-hander Cody Reed on Wednesday. He worked six innings without giving up a hit, walking one and striking out 11 in a 13-0 victory over Wisconsin. Reed is 1-0 with a 1.35 ERA, registering 27 strikeouts in 20 innings.
Center fielder Marcus Wilson reached base four times and drove in three in the victory. Wilson is hitting .362 with five home runs and 20 RBI and leads the league with an OPS of 1.166. He had a .470 on-base percentage.