D-backs' Marshall reaches 'huge milestone' in comeback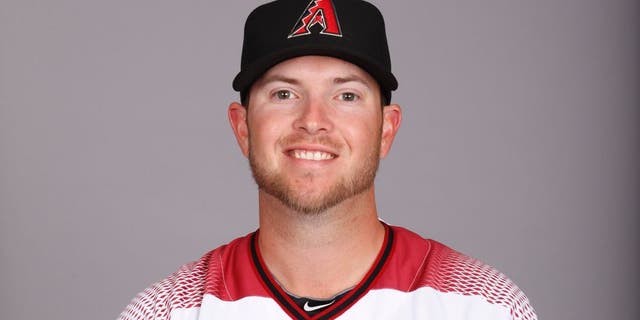 SCOTTSDALE, Ariz. -- The box score reads one inning in a Cactus League game early in the spring training. But it might end as one of the most important innings of Evan Marshall's career.
The Diamondbacks right-hander on Friday closed out a 6-3 victory over the A's. It was the first time he pitched in a game since he was nearly killed by a line drive to the head while pitching in Triple-A last August.
Marshall was greeted with hugs when he got back the home dugout. He was congratulated as he walked the length of the dugout and at the end shared an embrace with Triple-A Reno manager Phil Nevin.
Chief Baseball Officer Tony La Russa also offered a big hug just outside the D-backs clubhouse.
"It was a great moment," a choked-up Marshall said. "I'm close with the staff; they're so great and have been by my side through all of this. You run into Phil Nevin down at the end. Nev held my dog while (wife) Allie came to talk to me (in the hospital). You can't make that stuff up."
Wearing a protective pad inside his hat, Marshall got Josh Phegley on a line drive to center field and struck out Rangel Ravelo on three pitches. He could smell another strikeout but walked Richie Martin on a full-count pitch before he fielded a comebacker and threw out Danny Oh to end the game.
"Today was a real baseball game I got to pitch in," Marshall said. "That's a huge milestone."
It came seven months to the day since he was struck and suffered a fractured skull and bleeding in his brain.
"Those are the cool things about managing and being on a team when guys like that make it back and have success. It's really cool," manager Chip Hale said.
Marshall, though, had to block out the magnitude of the moment when he was in it.
"You get out there and it becomes instinctual," he said. "If you're thinking about other things, chances are your results won't be as good. And a comebacker to finish it off. That's instinctual, too. Self defense. ... I'm glad the comebacker happened and my legs didn't get wobbly."
Marshall is in contention for the final spot in the D-backs' bullpen. And after Friday that's where he can place his full attention.
"I don't really see anything else I can do to prove that I've made it back," he said. "Making the team would be great."