D-backs introduce 2-pound sundae in honor of Ice Cream Day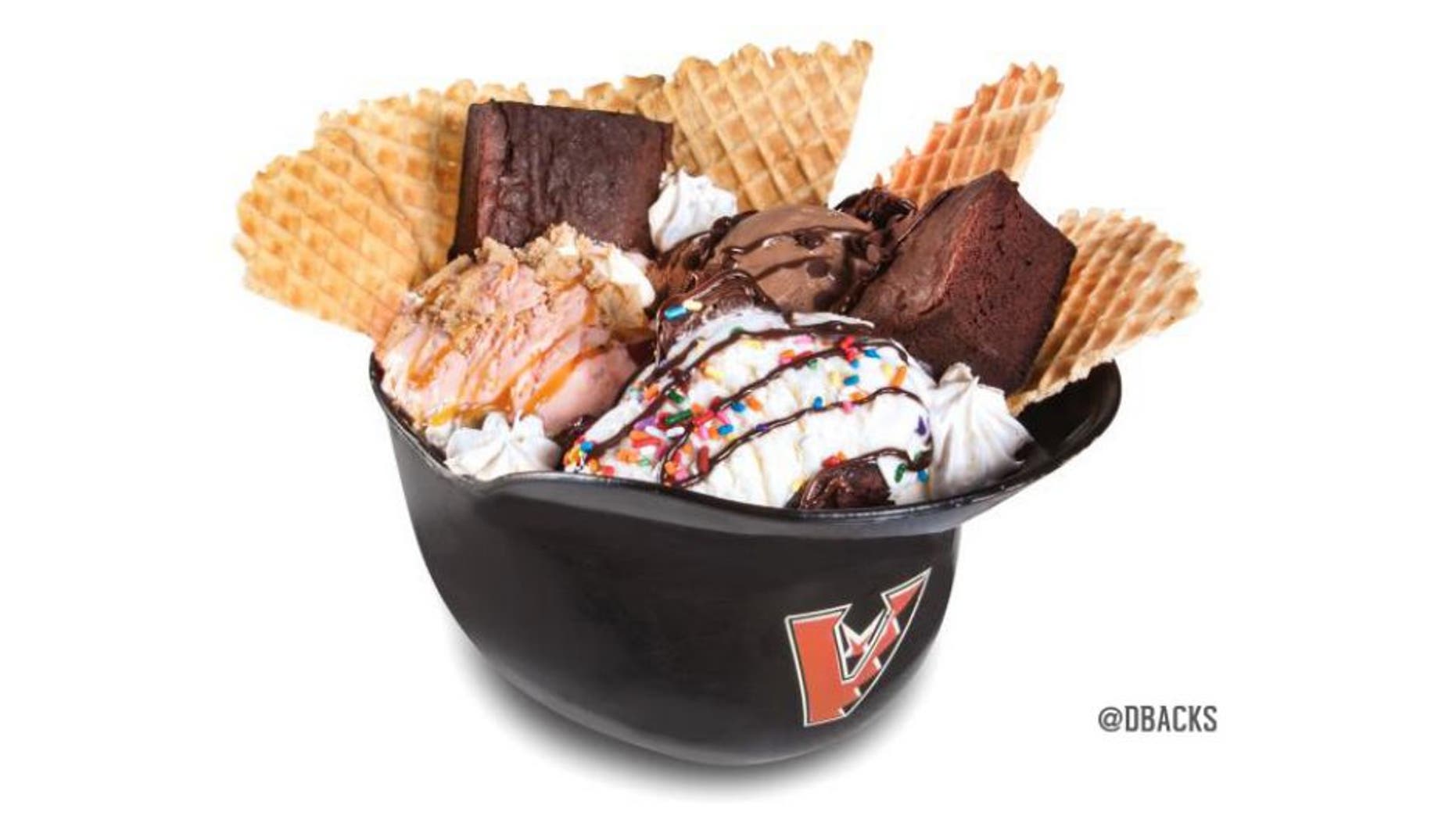 PHOENIX -- Those diet-destroying trouble makers at Chase Field are at it again.
In honor of National Ice Cream Day on Sunday, the Diamondbacks and Cold Stone Creamery are launching a new Chase Field exclusive food creation: The D-backs Triple Play Sundae.
It comes in three flavors -- Birthday Cake Remix, Strawberries in the Outfield and Chocolate Devotion -- features 15 ingredients, weighs in at 2 pounds (including the souvenir helmet that it's served in) and has a calorie count of 3,540 for the Love It size presentation.
Just so you know, it's "intended" to be shared by family and friends. The cost: $25.
Each flavor of the sundae includes three scoops of ice cream, two brownies, two waffles (cut in six pieces each) and whipped topping.
The breakdown for each flavor is as follows:
--Birthday Cake Remix: Cake batter ice cream, brownie, rainbow sprinkes, fudge.
--Strawberries in the Outfield: Strawberry ice cream, graham cracker pie crust, whipped topping, caramel.
--Chocolate Devotion: Chocolate ice cream, brownie, chocolate chips, fudge.
The Triple Play Sundae is only available at Chase Field Cold Stone Creamery locations, near sections 112 and 321.
Sunday also happens to be Baxter's birthday party at Chase Field, and to set the stage for his birthday bash (and National Ice Cream Day), Baxter will serve free "Like It" size samples of D-backs Dugout Delight from 11:30 a.m. to 1:30 p.m. Friday at the Arizona Center Cold Stone Creamery location.
Sunday's birthday bash will feature a variety of Baxter's mascot friends, who will greet fans from 11:30 a.m. to noon at the Chase Field gates and sign autographs at Baxter's Den during the fourth inning. The first 5,000 kids to attend Sunday's game will receive a back-to-school backpack.