D-backs have pitching to again rule West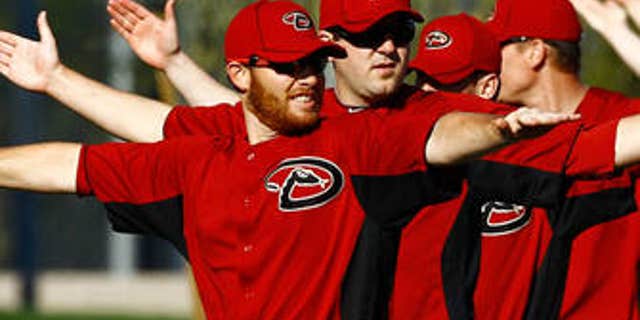 SCOTTSDALE, Ariz. – The San Francisco Giants have the best rotation in the National League West, by reputation and statistical measure.
For the time being, that is.
"San Francisco's rotation won a World Series," Arizona Diamondbacks general manager Kevin Towers said Tuesday. "Ours hasn't done that yet."
True. But his starters are closing the gap. And very soon, the Giants' tenuous edge may disappear altogether.
After all, the Diamondbacks - not the Giants - are the defending division champions. San Francisco fans argue a healthy Buster Posey would have changed last year's outcome. That may be. But Arizona's resurgence in 2011 - while sudden - was not a fluke. In fact, the franchise is better positioned now than at any other time since winning three division titles and one World Series between 1999 and 2002.
The Diamondbacks have one of the sturdiest starting staffs in baseball, with Ian Kennedy, Daniel Hudson, Trevor Cahill and Joe Saunders coming off 200-inning seasons. Of the group, only Saunders is older than 27. Kennedy won 21 games last year and finished fourth in the NL Cy Young Award voting - ahead of all the San Francisco stars.
Cahill is the newcomer, having arrived with reliever Craig Breslow from Oakland in a December trade. Cahill admits to losing focus and pitch command during a 2011 season in which his ERA swelled to 4.16, but Towers believes the right-hander's hard sinker will translate into ground-ball outs at hitter-friendly Chase Field. And Towers trusts the bromide that moving from the American League to National League can shave a pitcher's ERA by half of a run.
Hudson learned of the Cahill deal while on his honeymoon in Bora Bora and was so ecstatic that he sent out a celebratory tweet - without his bride's knowledge. ("I even had to pay for the Internet," Hudson said.) Towers' reputation as a pitching guru contributed to Hudson's enthusiasm for the deal. To be acquired by Towers is to earn membership in pitching's Phi Beta Kappa Society.
"I hope he didn't make a mistake," Cahill quipped.
The appeal of the Diamondbacks' rotation is equal parts quantity and quality - which is why they can outpitch the Giants. Josh Collmenter should retain the No. 5 starter's role in which he excelled last year. Wade Miley, a left-hander who performed capably in seven starts last season, is an excellent insurance policy. Big arms Tyler Skaggs, Trevor Bauer, Patrick Corbin and Charles Brewer could arrive in the majors soon - perhaps this year.
Manager Kirk Gibson did his best to sound matter-of-fact in discussing the prospects' throwing sessions Tuesday. But he couldn't deny the optimism, either. "They're good," Gibson said. "They've prepared, obviously. You don't want to get too excited. They threw the ball good. ... We like our depth, our talent. I like our guys. That's why they're here."
"What we have right now is good enough to win," Hudson said, "but we have a line of guys ready to step in if someone goes down."
The early spring news has had a much different tenor in the Giants' camp, some six miles south: Tim Lincecum missed a Tuesday bullpen session due to a stiff back, while Ryan Vogelsong suffered a more serious back injury and is out for at least the first two weeks of spring training.
The Giants can ill afford to have Lincecum or Vogelsong - let alone both - at anything less than full strength. Both ranked among the majors' top 10 pitchers last season in ERA, and the Giants don't have the Diamondbacks' depth to summon from the minor leagues.
Zack Wheeler was the Giants' top pitching prospect one year ago, but he was traded to the New York Mets for Carlos Beltran in July. Then the Giants dealt left-hander Jonathan Sanchez to Kansas City during the offseason, removing a mercurial but talented arm from the rotation.
If Vogelsong is forced to begin the season on the disabled list - which is a possibility - then Barry Zito will become the No. 4 starter while the unproven Eric Surkamp (or a candidate to be named later) moves into the fifth spot.
In that event, the Diamondbacks would become the clear division favorites - if they aren't already. They won 94 games last season - four more than the eventual world champion Cardinals - and are stronger now in the rotation, bullpen and lineup. During an offseason in which considerable talent flowed out of the NL, the Diamondbacks unquestionably improved themselves with Cahill, Breslow, reliever Takashi Saito and outfielder Jason Kubel.
This is also the team's second full season under the hyper-focused Gibson, who last spring explained the proper technique to take out a catcher at the plate - by showing the players an old photo of himself pancaking Pat Borders.
"I don't want to get carried away with last year, but it's enabled us to come in with confidence," Gibson said. "They learned how to focus. They know what to expect. Last year was all new. Things are much more, I guess, stable now. We know what we're doing. We don't have to spend as much time on some of the things we did last year. They embraced it during the season.
"They have an attitude of unfinished business. It was a fun year, yet we fell far short. They all understand it, the price it takes."
Pitching is part of that price. And in that regard, the Diamondbacks are wealthy indeed.