D-backs down Mets for 2nd night in a row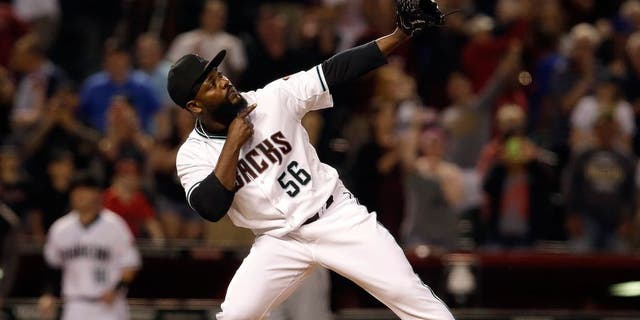 PHOENIX -- Yasmany Tomas homered against the reeling New York Mets again, and Zack Greinke pitched the Arizona Diamondbacks to a 5-4 victory Tuesday night.
Tomas has gone deep in five consecutive meetings with the Mets, who matched a season high with their sixth straight loss.
Gregor Blanco had a two-run single for the Diamondbacks, now 6-1 in their last seven games against New York. Of their 23 wins this season, 17 have come at home.
A four-run third inning gave the Diamondbacks a 4-1 lead before Tomas homered into the pool in right field in the sixth to make it 5-2. The solo shot loomed large when Rene Rivera hit a two-run homer in the seventh off Greinke to cut the margin to one.
Slumping outfielder Curtis Granderson homered earlier for the Mets.
Greinke (5-2) allowed four runs and five hits while striking out eight in 6 2/3 innings to beat the Mets for the fifth straight time. He got help from relievers Andrew Chafin, Archie Bradly and Fernando Rodney, who combined to hold New York hitless the rest of the way.
Rodney worked a 1-2-3 ninth for his 10th save.
Tommy Milone (1-1) lasted 5 2/3 innings in his second start for the Mets. He gave up five runs and six hits.
The Mets took advantage of uncharacteristic wildness from Greinke in the second when he walked Rivera and Granderson to force in a run.
The Diamondbacks took the lead with four runs off Milone in the third. Blanco singled in two with one out, and after Paul Goldschmidt was intentionally walked with two outs, Chris Owings made the Mets pay with an RBI single.
The Mets botched a rundown when they had Owings hung up between first and second. First baseman Lucas Duda's throw home to try to get Goldschmidt breaking from third bounced away from Rivera.
Goldschmidt was credited with stealing home, and his run made it 4-1. New York has allowed at least four runs in an inning in six straight games.
Granderson entered hitting .148 and batted eighth for the first time since 2011. He hit a solo homer in the fifth.
Tomas, who connected for the second straight night, has eight home runs this season. He has six homers and 14 RBIs in 11 career games against the Mets.
TRAINER'S ROOM
Mets: SS Asdrubal Cabrera was placed on the 10-day disabled list with a sprained left thumb, retroactive to Sunday. … LHP Steven Matz (elbow inflammation) and RHP Seth Lugo (elbow inflammation) are scheduled to pitch Thursday for Class A St. Lucie.
Diamondbacks: OF David Peralta pinch hit for the second consecutive night. He has been out of the starting lineup for two days due to glute tightness.
UP NEXT
Mets: In the series finale Wednesday afternoon, RHP Matt Harvey returns to the mound where he made his major league debut in July 2012. Harvey (2-3, 5.62 ERA) has lost three straight outings but is 3-1 in four career starts against Arizona.
Diamondbacks: LHP Patrick Corbin (3-4, 4.17) is 3-1 in five home starts this season but 0-3 in his career against the Mets.