D-backs can't solve Scherzer, drop series finale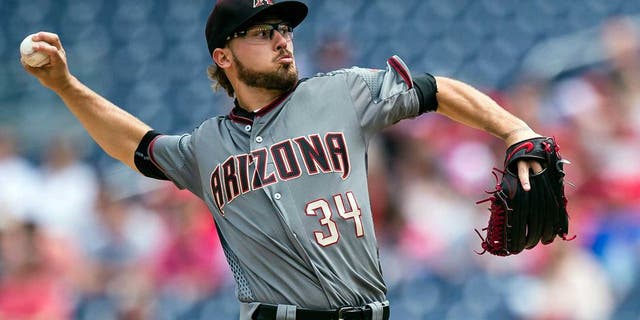 WASHINGTON -- Eight years later, Max Scherzer still finds a little extra motivation when he faces his first major league team.
Scherzer struck out a season-high 11 to bounce back from his worst outing this season, and Washington defeated the Arizona Diamondbacks 4-2 on Thursday after losing Bryce Harper to a groin injury.
Scherzer (4-2) allowed one run and two hits in seven innings against the team that drafted him in 2006.
"He came out strong and had that look in his eye," Nationals manager Dusty Baker said. "And you could tell by that opening pitch that he wanted he wanted to beat the Diamondbacks."
Scherzer also was 2 for 3 at the plate, driving in Washington's first run with a second-inning infield single that pitcher Braden Shipley could not pick up with his bare hand.
Scherzer is 5-0 with a 2.41 ERA in six starts against the Diamondbacks, who traded him to Detroit after the 2009 season. He admitted facing his former team inspires him.
"You wouldn't be human if you didn't," he said. "But you've got to find something to motivate you every single time. You can't out there and just rely on, `This is a former team'."
Matt Albers pitched the eighth, Joe Blanton gave up Paul Goldschmidt's leadoff homer in the ninth and Enny Romero finished the four-hitter for his second major league save. Washington won the three-game series and finished its homestand 3-3.
Scherzer gave up five runs on Travis d'Arnaud's two homers in a 7-5 loss to the Mets last Friday. This time around, the NL CY Young Award winner struck out the side in the fourth and the seventh, the only two innings he allowed a hit. He gave his fifth homer in three games, Jake Lamb's seventh-inning drive.
"Look, if I give up solo home runs, so what? Bring them on," Scherzer said.
Anthony Rendon hit a two-run double in the third that sailed over left fielder Chris Herrmann, who made a poor read.
BRYCE PLAYS IT SAFE
Harper left the game after striking out in the sixth inning, three at-bats after he said he got hurt while diving to rob Shipley of a bloop base hit.
Baker called the injury day to day, and Harper suggested it wasn't serious.
"Just trying to get out of there and get some treatment," he said, looking ahead to Washington's next series. "Everybody knows I want to play in Philly."
NOT GIVING IN
Shipley (0-1), making his first big league start this year after five outings at Triple-A, gave up three runs, five hits and six walks in four-plus innings, throwing just 49 of 92 pitches for strikes. The walks matched his career high, but the damage could've been worse after facing four batters with the bases loaded.
"I felt like he didn't give in all day long, and that's a credit to him," said Arizona manager Torey Lovullo. "But unfortunately, it wasn't his best outing. I know that there's more in there."
MAKING MOVES
Arizona optioned OF Jeremy Hazelbaker to make room for Shipley, who was recalled from Triple-A Reno.
TRAINER'S ROOM
Diamondbacks: OF David Peralta (illness) was a late scratch by manager Torey Lovullo. It was Peralta's third straight game out of the lineup, but he pinch hit leading off the eighth and grounded out.
Nationals: RHP Shawn Kelley did not pitch in a save situation for a second consecutive game after Baker said late Wednesday the reliever had been dealing with an illness.
UP NEXT
Diamondbacks: LHP Zack Griekne is to start Friday at Colorado, where he is 2-0 with a 4.26 ERA in eight appearances.