D-backs' bats overpower Phillies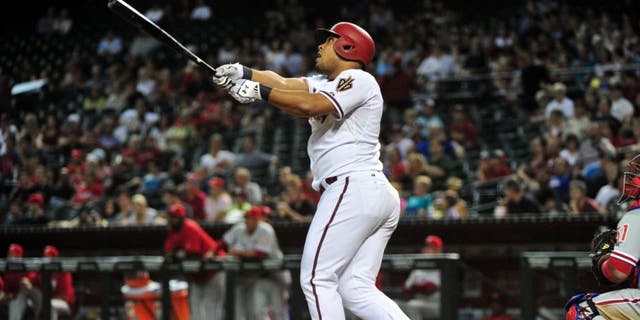 PHOENIX -- Reds manager Bryan Price on Sunday lamented the damage done by the middle of the Diamondbacks' lineup. David Peralta and Paul Goldschmidt were back at it again Monday and they had plenty of accomplices, leaving Phillies pitcher Aaron Harang just as worn out as Price.

Welington Castillo, Yasmany Tomas and A.J. Pollock each homered, and Peralta and Goldschmidt combined for four hits and four RBI as the D-backs racked up 17 hits in a 13-3 victory at Chase Field.
Goldschmidt on Sunday broke out of a weeklong slump but the D-backs of late haven't relied so heavily on their MVP-caliber star. The series opener against the Phillies -- who came in with the best record in the majors since the All-Star break at 16-5 -- showed as much.
Pollock and Jake Lamb combined for five hits ahead of Goldschmidt, and Peralta, Castillo, Tomas and Chris Owings tallied nine hits and eight RBI off Harang and two Phillies relievers as the D-backs moved to within one game of .500.
"This team doesn't have big names but we have players that go out and give 100 percent," said Castillo, who matched his career-high with four RBI.
After the D-backs (55-56) scored single runs in the third and fourth innings, they took the lead with a three-run fifth. Peralta had a two-run double off the center field wall and Castillo homered onto the concourse just above the pool in left-center.
Arizona put the game away with seven hits and six runs in the sixth. Jamie Romak, Peralta and Tomas each had an RBI in the inning and Castillo added a three-run triple to become the first catcher in franchise history with a triple and home run in the same game.
"I thought Tomas came out tonight after the three games off from starting and really flexed his muscles out there with outstanding at-bats," manager Chip Hale said, "and it really flowed the whole way through."
Castillo was knocked woozy for a brief moment when he took a Dominic Brown backswing to the head.
Hale and head training Ken Crenshaw came out to check on the catcher. They asked him what the score was and Castillo looked up at the scoreboard.
"I said that was cheating," Hale said.
Crenshaw then asked Castillo what he did in his previous at-bat.
"He knew he hit a home run," Hale said, "so we knew he was OK."
Castillo's home run was his eighth in 12 games and his 13th since he was acquired from the Mariners on June 3. The D-backs are 11-1 when Castillo homers.
"They were too comfortable up there," said Harang, who gave up eight runs in 5 1/3 innings. "Obviously they were seeing the ball well off me."
It was all more than enough for Rubby De La Rosa, who gave up three runs in six innings and won for the 10th time this season.
"He was a winner tonight and that's what we want from our starters," Hale said. "Even without his best stuff, I don't think. ... He was able to curb the damage and come in and keep us in the lead."
DID YOU NOTICE?
Mixed in with everything else the D-backs did at the plate, Pollock showed off his entire offensive game with a home run, a triple, an infield single and a stolen base. It was his 12th home run and 26th stolen base this year.
KEY STAT
.331 -- Peralta is 58 for 175 in the cleanup spot, with 20 extra-base hits and 34 RBI.
LAST CALL
Goldschmidt moved him into fifth place all-time in D-backs history with 383 RBI, just ahead of current Nationals manager Matt Williams. Goldschmidt also drew his 24th intentional walk this year, tying the club record for most in a season; that was set by Luis Gonzalez in 2001.