Cyborg: Ronda Rousey ran from me for years, 'she's not gonna fight me'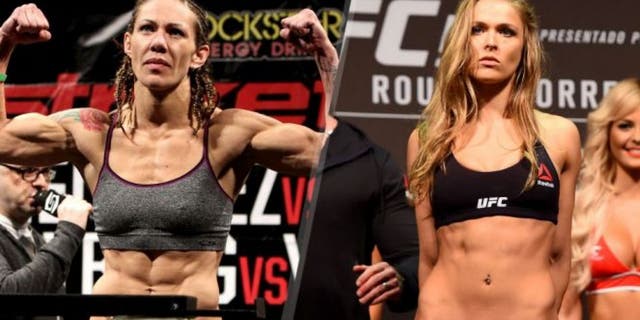 NEWYou can now listen to Fox News articles!
Cris "Cyborg" Justino has pursued a fight with Ronda Rousey for years, but she's now convinced that it's never going to happen.
The super fight between Cyborg and Rousey has been teased before with UFC president Dana White saying it would be the biggest matchup in the history of the promotion.
Cyborg even made a cut down to 140 pounds on two different occasions this year in part to prove to Rousey and the UFC that she could make the weight for a potential super fight with the former women's bantamweight champion.
In the past, Rousey always insisted that Cyborg cut all the way down to 135 pounds to meet her because she was the champion. That's no longer the case after Rousey lost the belt last November in a brutal second round knockout to Holly Holm.
Now Rousey is poised to return on Dec. 30 for a title bout against Amanda Nunes at UFC 207, but Cyborg believes the same excuses that prevented them from fighting before will once again be used as a deterrent against her.
"Really if Ronda really wanted to fight me, she would've already did it. (Whether) she wins or loses her next fight, she's not gonna fight me," Cyborg said. "This I already know. She doesn't like challenging herself. If she lose, she's gonna retire. Even if she wins, she will say, "you have to come to the champion," and she'll be saying the things that she said before, you know, because she's not there to challenge for big fights.
"You know, she chooses her opponent and I don't think this fight's gonna happen. I know Dana White said, "oh Ronda wants to fight really bad". If she really wanted this fight really bad, it would have already happened, people would've already watched the fight. I don't believe one word of this."
Cyborg also took the opportunity to criticize Rousey for receiving a title shot in her first fight back after being knocked out by Holly Holm last November.
Rousey hasn't competed since that time and Cyborg doesn't understand why so many concessions are being made for her, especially considering how her last fight ended.
It might ultimately cost her as well because Cyborg knows Nunes will give Rousey everything she can handle and the outcome could easily result in another loss.
"Ronda, after her loss to Holly Holm, she took like a one-year break, and then I don't think it's fair she fights for the belt after one-year break. I think she's supposed to rematch Holly Holm or fight somebody else. I don't think she's humble enough for a fight that's not for the belt, because she wants to fight for the belt," Cyborg said. "But I think Amanda Nunes, she fights all the time and she's in shape and man, I don't know if she's (Rousey) making a good choice.
"You know Ronda, she ran from me long time. This is no surprise to me that she doesn't fight me in her next fight. Of course not. She cannot take a punch and she doesn't have a strong mind. Holly just kicked her ass in her last fight and she doesn't feel confident. I hope she's training hard for her next fight, because Amanda is no easy opponent. Amanda knows (how to) punch and Miesha Tate can say about this. You know, that's no easy fight, it's no easy fight."
As far as her own future goes, Cyborg says she's done making the cut down to 140 pounds unless the UFC is serious about putting together a fight with Rousey.
Cyborg made the move down to 140 pounds for a pair of fights in the UFC but she can't endure another brutal weight cut unless the prize at the end of her suffering is a matchup with Rousey.
"You know, the first time I made 140 in Brazil, Curitiba, the first time I did it was because it would be in my city. And then second reason was because it was UFC Brazil. The main thing is to do is open an opportunity, maybe to do super fight with Ronda Rousey at 140," Cyborg explained when speaking to Submission Radio. "And I just showed them that I can make 140 for a super fight. And my second fight was supposed to be 145, I was supposed to be to defend my belt. And then again, I had the opportunity to fight 140 in Brazil.
"And I really respect all my opponents, but the girl in my last fight (Lina Lansberg), nobody knows her, and she's had like 70 Muay Thai fights. She's a really, really good opponent, but for me to sacrifice to make 140, I'd like a super fight. You know, something the fans would like to watch. Because my last opponent, her last win was at 145 pounds. And then sometimes, I don't see it's worth making 140 to make a fight like this. If you want a super fight, doesn't matter the weight -- It can be 150, can be 155, 145."
When asked specifically if she would only cut to 140 pounds for a fight with Rousey, Cyborg simply answered 'yes'.
For now, Cyborg is resigned to defending her Invicta FC title while holding out hope that the UFC will allow her to compete at 145 pounds, but unless Rousey's name is on the contract, it appears her days fighting at 140 pounds are over.