Cutting through the Clowney noise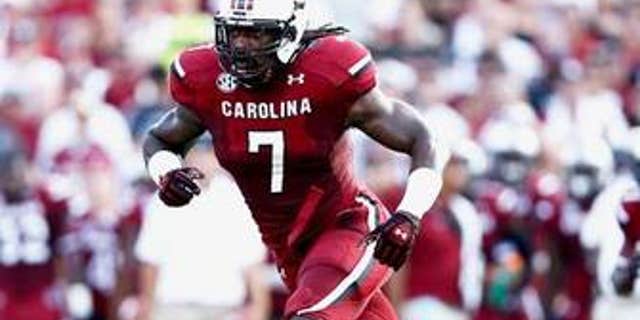 In the past few days, during a period as important as one can be in a 20-year-old life, Jadeveon Clowney has been called selfish, soft, immature, a prima donna, a joke, a quitter.
He's been called nastier things in the safe, dark corners of social media. He's been told what he should do and what he shouldn't regarding the rest of South Carolina's football season and the remainder of his collegiate career.
Since deciding himself he wasn't healthy enough to play against Kentucky last Saturday , a decision that irked South Carolina coach Steve Spurrier and called into question his desire to continue playing college football, Clowney has been called and told many things.
On Tuesday, Spurrier tried to momentarily quiet some critics and take some pressure off Clowney. "None of us need to be upset at Jadeveon," Spurrier told reporters. "None of us. He's played his part tremendously."
Questions and suspicions and opinions will still fly, though. Will Clowney finish the season? Is he doing what's right or being selfish? Has he hurt his draft stock?
Let's pause the pontificating and try to cut through the furious noise accompanying Clowney, highlighting what we know and what we don't.
We know Clowney is caught in a tremendously difficult position
Few athletes have been blessed with such incredible gifts that their stocks peak more than a year before they can be sold. Most have something to gain in their final amateur season. Clowney does not.
Heading into the 2013 NFL draft last April, respected draft analyst Mel Kiper Jr. said Clowney was the obvious No. 1 pick if the rules allowed him to enter the draft after his sophomore season.
"I've seen enough on Clowney to know he would have been the guaranteed No. 1 pick this year," Kiper said. "He would have been the No. 3 or No. 4 pick last year after his freshman season."
Clowney knew how valued his talent was by professional organizations. He took out a $5 million insurance policy in March in the event he suffered a terrible injury this season, a risk most believed he shouldn't have to take.
"He doesn't need to play another year, and he could have been guaranteed financial security for the rest of his life," Kiper said. "He's a guaranteed No. 1 pick, and he's forced to go back. That's not right."
That's the burden with which Clowney entered this season. NFL teams already believe I'm the best player and are ready to pay me accordingly. Just don't mess up.
However you believe Clowney has handled his junior season is fine, but you can't argue a simple solution exists.
We don't know if Clowney is hurting his draft stock, as has been suggested
Some arguments have been made in previous days that Clowney's recent actions are sliding him down draft boards, which are based mostly on flimsy anecdotal "evidence" and cries that he's being a poor teammate.
In actuality, it's too early to make any presumptions about what's happening to Clowney's stock. NFL teams are in the process of acquiring information, from as many sources as possible, and won't actually "slide" players up and down draft boards for months.
ESPN draft analyst Todd McShay wrote Monday (subscribers only) that, in his opinion, Clowney is still the top prospect for the '14 draft because his talent is superior to everyone else's and his performance this season has been fine despite being overly criticized.
On Sunday, the USA Today quoted a couple anonymous NFL sources saying Clowney holding himself out of the Kentucky game will have no impact on his draft stock. "Nah, no one will care," one said. "If he's healthy, works out well and most importantly interviews well, it won't hurt him."
The one difference from a year ago is that, in UCLA's Anthony Barr, a viable Plan B to Clowney exists for teams in need of an edge pass rusher, but that doesn't itself mean Clowney's stock has changed at this moment.
We know Clowney is concerned about his health and getting injured
Of course he is - why wouldn't he be , as Tim Keown asks?
I suppose Clowney can be thankful his position puts him at less risk of injury than, say, running back, the position at which he watched teammate Marcus Lattimore have a knee destroyed last season. Clowney's knees are vulnerable on cut blocks and random acts of opposing player idiocy , but he's lucky to not spend every play with fast, strong men trying to take out his legs.
But even when Clowney is the one delivering the pain there is fear for his health. As Greg Bishop wrote in his New York Times profile of Clowney this summer, Josenna Clowney, Jadeveon's mother, loves watching replays of his hit on Michigan's Vincent Jackson in last season's Outback Bowl. You know, this one:
Josenna told Bishop she has watched that play probably more than 1,000 times and never grows tired of it, the excitement, the electricity that seemingly propels her boy across screen and into the chest of a hopeless ball carrier.
But underneath all that thrill, that rush, is concern.
"The way he be hitting people, I'm scared he going to hurt himself," Josenna says.
If this fear drives Clowney to make an impulsive decision before a game against Kentucky, well, yeah.
We don't know the impact 'The Hit' has had, but it seems significant
The play has been viewed by millions on YouTube and millions more on television highlight shows. Sports Illustrated assigned the brilliant Tim Layden to write an extended feature on it .
The play itself, this intangible flicker of time, even won a damn award .
At SEC Media Days over the summer, Spurrier spoke about how that play elevated expectations for Clowney's junior season to unreachable heights, because no player can deliver that kind of magic on demand.
The play was an incredible collision of unrestrained forces, both literally and metaphorically, likely to never happen in that same way again, yet Clowney has had to live with its consequences every day since.
Gil Brandt, a longtime NFL executive for the Dallas Cowboys who now works for NFL.com, wrote Monday that a singular play can change the perception of a prospect, which may very well be the case with Clowney.
Brandt doesn't believe Clowney is the product of that one play - he mentions all of the quality tape Clowney had before that bowl game - but writes, "Sometimes a play will take you from a very good player to a great one, and no one questions it."
For whatever impact the hit has had on the perception of Clowney as a prospect, it has helped build this insufferable vortex of attention that makes even little things seem like big things when examined under our high-powered lens.
We know the reasons for Clowney's actions are complicated, if unclear
It's more than just the fear of injury driving him to sit out games.
As Brandt noted in his piece, it's also the fear of giving NFL teams below-average scouting tape to add to your draft file. As part of the evaluation, NFL teams will follow up with college trainers after the season to get health statuses for games that a player may have seemed a bit off on film.
If a player was attempting to play through an injury, the pro evaluator has an acceptable reason for the player's performance to add to his report.
I'm sure if an NFL team called South Carolina's trainers at the end of the year to get a health update before the Kentucky game, the trainers would tell the team Clowney had a strained muscle around his ribs that was making him uncomfortable. But it's worth noting that South Carolina doctors never said Clowney wasn't fit to play. In their medical opinion, the player was able to compete. He chose not to.
Was Clowney concerned that, although medically cleared, he wouldn't be able to perform to an acceptable level for the scouts in attendance? I don't know, but it's worth noting.
We don't know if there's an actual maturity problem to be concerned about
Clowney is getting vilified for sitting out, and he certainly could have handled this situation better than he has.
But is he really a "prima donna," the kind that can't, or won't, communicate effectively with his coaches at the next level? The kind that does whatever the hell he wants?
Well, it wasn't even three months ago that Spurrier spoke about how well Clowney has handled attention since 'The Hit,' how hard he worked over the summer, how good of a teammate he has been, how he handled his surge of fame significantly better than Johnny Manziel.
He seems to get along will with his teammates, the teammates who've supported him when the media began dissecting his every move beginning with his conditioning in the first game of the season.
Has all of that suddenly changed? Hmmm. I'm going to say it's likely overstated, heavy-handed narrative fodder that was conveniently contrived in the last 48 hours to support columns and just move on.
We know, in regard to Clowney's future, this is probably all overblown
Clowney can decide to play this week against Arkansas, announce his commitment to South Carolina for the rest of the season and go about his business of being the player that draft analysts considered the No. 1 prospect as a sophomore. This would make South Carolina fans forever love him and allow him the opportunity to describe this hiccup as a "learning moment" when he interviews with NFL teams before the 2014 draft.
He could decide to not play again this season and begin preparing for the draft, which would likely turn Gamecocks fans against him and force NFL teams to pick at this sore in the evaluation process. There are also moral conflicts involved in this scenario - about quitting on teammates, etc. - that would drive further discourse Clowney's way.
Whatever he decides, I'm not sure how it substantially impacts his professional future. He will still be drafted high, probably No. 1 overall unless the Jaguars (or someone else) decides they must take a quarterback.
There are moderate cases of character assassination occurring now with Clowney, but if you're an NFL team, what's his big flaw?
That he wants to get to the league so bad he fears injury might stop him? That he's hesitant to risk his future when his future employers have long been convinced he's ready to work? That he wants to, finally, play football and be compensated for it? How brazen of Clowney.
"If he never plays another snap here, we all should be thankful and appreciative that he came to South Carolina," Spurrier said Tuesday. "All those No. 7 jerseys, and all the money he's made for our school, he's been a tremendously important player."
Amid the fury and noise of the last few days, that might be the one thing we really know about Jadeveon Clowney.
The rest, despite the conviction in our high-pitched opinions, remains a mystery, laid bare for further interpretation.