Cutler jabs back at Marshall: No one likes their ex after a breakup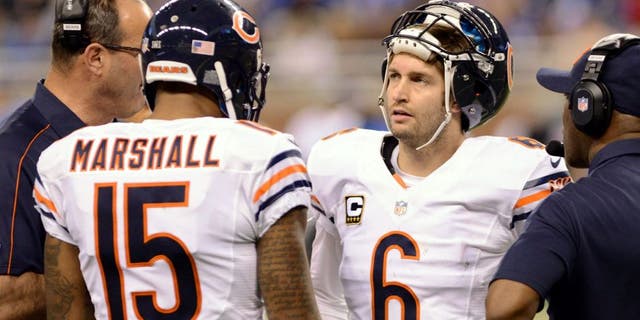 NEWYou can now listen to Fox News articles!
Brandon Marshall made headlines a few weeks ago when he took a shot at Jay Cutler, saying Kyle Orton was the best quarterback he's played with. Marshall continued firing (indirect) shots at Cutler on Wednesday by saying the Chicago Bears failed to win because they "had a tough time of coming together."
Well, now it's Cutler's turn. On Thursday, Cutler jabbed back at Marshall with a shot that is sure to get the wide receiver's attention.
"No one really likes their ex-girlfriend just after a breakup," Cutler said via NFL.com. "He's fine and he's been like that for as long as I've known him. He's an incredible player, he did a lot for us here, it just didn't work out. I could've been the guy that got shipped out of here as well."
Cutler, who seems to come under criticism wherever he goes, will be without his No. 1 receiver in Marshall, but he'll have Alshon Jeffery to sling deep balls to.
As for Marshall, he might end up missing his buddy Jay when he takes the field with Geno Smith for the first time. As poor as Cutler has played in recent years, no quarterback has been worse than Smith over the past two seasons. Still, Cutler has confidence in his ex-teammate.
"He's gonna do well with the Jets and I know he's in unbelievable shape, I've seen him work out in Chicago a little bit, so he's gonna do well."
(h/t NFL.com)