CUP: Wolfe Worked Way To Top In NASCAR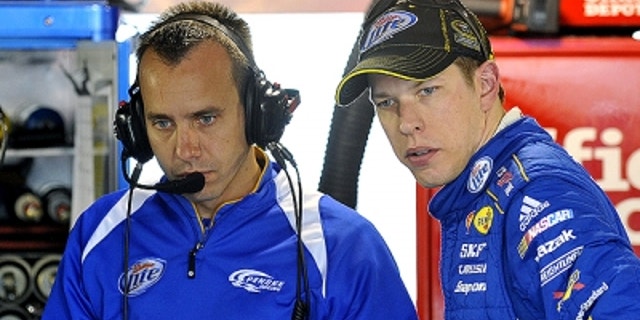 Article by Rea White, FOXSports.com
Paul Wolfe once chased his dream of being a championship driver. He worked to land a ride in one of NASCAR's premier series, then changed his direction.
It certainly paid off.
After all, the 35-year-old has reached the ultimate peak in his career. This week, he's hoisting a different trophy than the one he initially eyed, but one equally coveted by competitors throughout the sport — that of NASCAR Sprint Cup champion crew chief.
In many ways, it seems like the success came overnight.
In reality, though, it was a long road to the title he just won with driver Brad Keselowski and team owner Roger Penske.
Wolfe, a native of Milford, N.Y., concedes it has been a rather lengthy, and unusual, path.
"It's been a long road and a lot of hard work," he said. "Just continuing to try to put myself around good people and learn the sport. I feel like I've been able to do that. It's put me in with a great company in Penske Racing and a great driver with Brad."
It started, though, with Wolfe behind the wheel.
He raced in the K&N Pro Series East from 2000-04, making 40 starts in that stretch. He had 19 top-10 finishes, nine of them top fives, and won two pole positions. He has also raced in the K&N Pro Series West (one race) and made 16 starts in the NASCAR Nationwide Series from 2003-05.
Wolfe said the goal was just to break into this sport.
"Originally, I just wanted to get into the sport of NASCAR," he said. "Didn't really think driving would ever be an option for me. Obviously, along the way I've been able to do that some. I think that's helped me. But just growing up as a kid watching NASCAR on TV and local short-track racing in upstate New York, when I had the opportunity to move down south, that's what I did and just learned it from there."
So how would he characterize himself as a driver?
"I was great, isn't that what we all think?," Wolfe said. "Obviously, I wasn't good enough or I'd still be driving. Everybody always tells me I do a way better job at crew chiefing than I was driving. So I'm definitely happy and content with my role now."
He worked his way through the ranks as a crew chief, too. Wolfe was with CJM Racing when he really began attracting attention in the garage area. That was 2009, a year when he worked with Mike Bliss and a few other drivers and the team was running in the top five.
"At the time, I think, Mike was racing (Justin) Allgaier for a top five in the Nationwide points," Wolfe said. "But I don't know if they were paying attention a little bit to how we were running because of that, and saw that for a very small team, underfunded, that we were putting pretty fast race cars out there. I believe that's a little bit of what they saw."
Then the conversations with Penske began in earnest.
Keselowski approached him about being his crew chief, but Wolfe initially turned him down.
"Well, originally, I like to consider myself a pretty loyal guy," he said. "I had committed to the race team I was with at the time. They were giving me everything I had asked for, and what I wanted to do in building a race team. But come the end of the season, there was no funding there to continue on. So at that point, I was looking at all of my options that were out there."
And the most alluring option was Keselowski and his Penske Racing group.
"As I sat down and looked at them, I had seen — obviously, I had raced with Brad and seen what he was able to do — and I felt like together him and I could, hopefully, win races and contend for championships," Wolfe said. "Just seeing what he had done in the past and the opportunity was here at Penske to do that. It would be a brand-new start-up team, and that was something that really excited me.
"Seeing a guy like Brad that I knew could win races and an opportunity to build a race team — the combination of the two things is what brought me here to Penske."
It has been a winning formula for the crew chief and driver.
With his past experience behind the wheel, his ability to make calls on the fly with Keselowski and their complete trust in each other, the two have gained ground quickly in the NASCAR ranks.
After winning the 2010 Nationwide Series title together, Wolfe joined Keselowski on the Cup side in 2011. After a lackluster rookie Cup effort in which he finished 25th in his first full season, Keselowski ignited in 2011 working with Wolfe.
Keselowski improved dramatically, finishing fifth in the points standings. That was nothing compared with the 2012 season.
This year, he won five races, improved dramatically when he returned to tracks and won the Sprint Cup title for the first time.
"Well, I think, naturally, Paul and I have been working together for three seasons now, two in the Cup and one in the Nationwide Series, and there's no doubt that our relationship has evolved," Keselowski said. "As of late, we've been getting a lot of talk about the pit calls and so forth and for good reason. I think that's really evolved our relationship there, but I think that we have a good level of respect and humility for each other at the same time.
"And when he tells me, 'Hey, you need to trust me on this, and we need to do it,' whether it's a pit strategy call or something on the race car itself, you know I'll listen to him and I'll believe in what he has to say because over time we've built that trust and respect for each other. And I think he has the same feeling in that with each level of success that we have, we are maybe a little less hard-nosed to each other and just believe in each other.
"I think that he and I have a very special dynamic that's hard to quantify, and I said (late in the season) it's somewhat like being married, because it is. It's a relationship where over time it's built on trust and every step you take, every day that you work together or live around each other or whatever it might be, which is a lot of how this garage is, you live around each other. You go through those moments where you're challenged and you're looking at each other to react and how you react is going to set the path forward for you know how you work together for years to come.
"And each instance, I feel like he and both have done a really good job of taking adversity and fighting through it and becoming stronger from it and making better decisions. And because of that, our respect level has grown and others things come really easy and much more naturally to our collective styles."
And now, that has netted them NASCAR's top honor.
As Wolfe celebrated his title with his crew, Penske was quick to point out the impact Wolfe had on the stellar run — and give him a nod for his role in making this possible.
"Paul Wolfe was a great operator from the standpoint of getting Brad where he needed to be, pulling this team together over the last three years," said team owner Roger Penske, who won his first Cup title with this group. "He's been amazing. . . . I just want to thank Paul for the great job he's done in building this team."