CUP: Will New Rules Shuffle Order?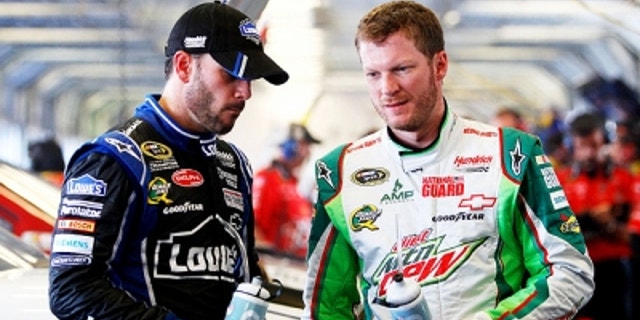 NEWYou can now listen to Fox News articles!
Saturday night's Quaker State 400 at Kentucky Speedway is the first high-speed-oval NASCAR Sprint Cup race with new aerodynamic and chassis rules in place, rules designed to reduce downforce and limit skew in the rear suspension.
On the aero side, shorter side skirts on the cars cut total downforce, while at the rear, teams will not be able to use the rear sway bar and trailing arms to skew the cars sideways anymore. Hendrick Motorsports, in particular, had been very successful of late with that setup.
Thursday at Kentucky Speedway, Brad Keselowski said the new rules would shuffle the competition drastically. "I think it's going to be a major game-changer on who's competitive, who's fast and who's not," said Keselowski.
But that might not necessarily be the case.
During Friday's first round of Cup practice, Hendrick teammates Dale Earnhardt Jr. and Jimmie Johnson were second- and third-fast, respectively, and both professed to favor the new rules.
"I think the changes to the side skirts are actually going kind of in my direction to help me," said Earnhardt, who was seventh in the final Happy Hour session. "I like the cars to be sliding around, slick, and up on top of the track and difficult to drive. That's kind of going in that direction. It's taking a little bit of the comfort out. I think it helps Jimmie (Johnson), too. ... I know a lot about what Jimmie likes and what we both are kind of leaning towards with set-ups, and I think those changes won't bother us too badly, hopefully not. We've already ran for a while with a little bit of that adjustment and seemed to do fine."
"The skirt changes will be a significant reduction in downforce to the cars," added Johnson, 12th in Happy Hour. "So we're looking forward to it. I think the more we do to make the cars difficult to drive, the more it comes my way and I think the better it is for Hendrick Motorsports in general. So, I think it's going to be a good race and hopefully we'll be right there where we've been the whole time."
Roush Fenway Racing driver Carl Edwards said he, too, applauded the move by NASCAR to shorten the side skirts.
"I don't think the cars are much different," Edwards said after Friday's first practice at Kentucky. " This track makes it hard to tell because it is so bumpy. They (NASCAR) are going the direction I like. They can knock the rear spoilers off them, cut the splitters off the front, raise the car three inches and I am happy. The less downforce we have the better.
"I think NASCAR is going the right direction trying to get the cars so we can pass, race closer and even though this car will be gone soon I think any of those changes that take aerodynamic forces away from this type of racing will be good for NASCAR and I appreciate them going that direction," said Edwards. "I think it is cool."
Tom Jensen is the Editor in Chief of SPEED.com, Senior NASCAR Editor at RACER and a contributing Editor for TruckSeries.com. You can follow him online at twitter.com/tomjensen100.