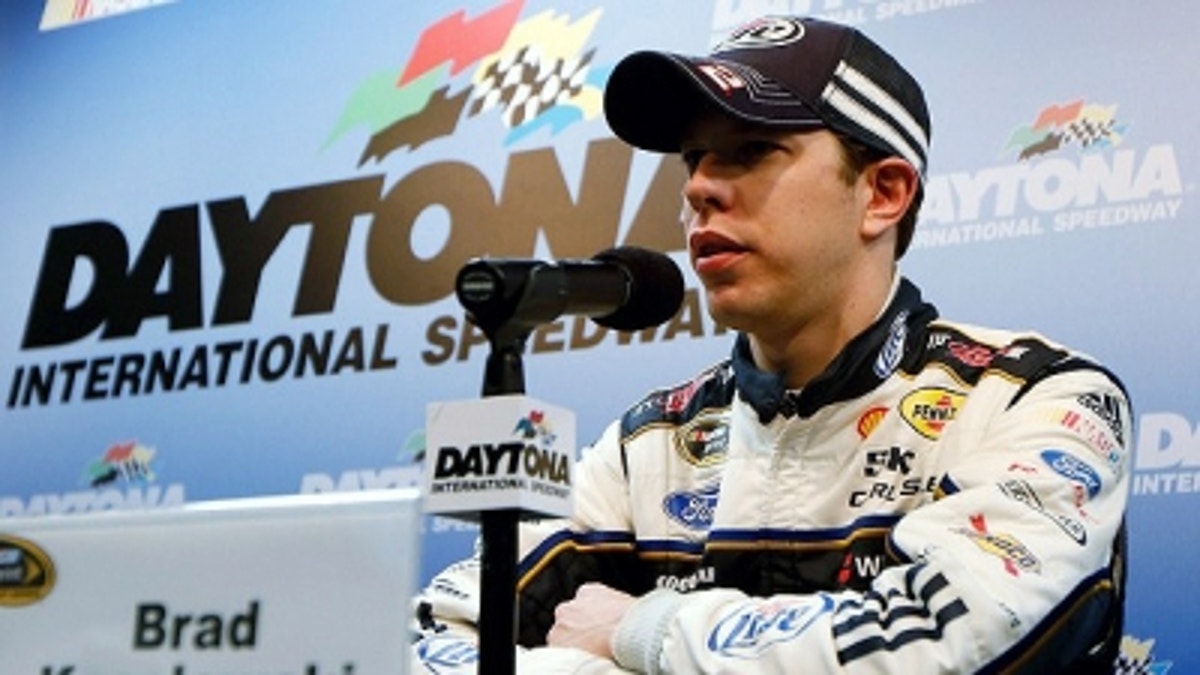 How is it that NASCAR's defending Sprint Cup champion Brad Keselowski won't be racing in Saturday's Sprint Unlimited?
For NASCAR novices, while Keselowski won stock car's top honor in 2012, the driver of the No. 2 Ford Fusion failed to earn a pole position last season — nor is he a former winner of the event.
Clint Bowyer, who finished second in the Cup points standings, finds himself in a similar predicament. Of last season's Chase for the Sprint Cup contenders, Keselowski and Bowyer will be the only two absent from the 19-car field.
Keselowski, who looks for every advantage over his competition, admits he's "disappointed" that he'll experience the Cup kickoff to Speedweeks from the sidelines. By missing the Sprint Unlimited, Keselowski not only lost valuable practice time but the driver will also miss the opportunity to shake down his new Generation 6 Ford Fusion under race conditions and size up his competition for the Daytona 500.
"Any driver not in a race is disappointed not to be in it," Keselowski said. "I think it limits some of your ability to win the 500. Not all of it, but some of it."
With Keselowski's record of three wrecks in seven starts at Daytona International Speedway — including crashes in his last two Daytona 500s — the driver of the Blue Deuce can use all the seat time he can get. Still, Keselowski doesn't subscribe to the philosophy of giving everyone on the bench an opportunity.
"This isn't T-ball, though," Keselowski said. "Not everybody plays. We didn't earn our spot and we don't play. It is pretty simple. This is professional sports and we need to earn our spot. We spend our time and energy working on what we could do to win the championship, not winning a pole.
"If I could choose being in the (Unlimited) or winning the championship I would take the damn championship 100 out of 100 days."
Bowyer accepts his situation as well. Qualifying hasn't been his forte since graduating to the Sprint Cup Series. In 253 Cup starts, Bowyer has posted just two poles — both in 2007. Bowyer will watch the race at a track — just not from Daytona.
"Well, I didn't sit on a pole so I didn't deserve it," Bowyer said. "Certainly had a good year, but nonetheless it's off of poles. I'll probably be watching from the back of my dirt hauler in Tampa. I'm going to go down there and watch my guys (on Bowyer's race teams) and there is a TV in the back of the hauler so I will probably be watching it from there."
Keselowski's consolation prize will be joining NASCAR on FOX's Chris Myers and Michael Waltrip in the Hollywood Hotel studio for Saturday night's Sprint Unlimited. The Champ says he's looking forward to the opportunity.
"Maybe I will get to see a few things or maybe open my eyes on the broadcast side to make them better or maybe make me better," Keselowski said. "It goes back to you put yourself in position where you can learn things and you never know what comes from it."
Fan voting determined the race format will be three segments of 30 laps, 25 laps and a 20-lap dash to the finish.
Coverage for the event begins Saturday at 8 p.m. on FOX.
THEY'RE GOING THE DISTANCE
While running a half-marathon on Sunday morning prior to Daytona 500 qualifying might appeal to Jimmie Johnson, Kasey Kahne and Michael Waltrip, a race not involving cars isn't exactly Tony Stewart or Bowyer's idea of fun.
"Do you anticipate me running any marathons anytime soon? In case you didn't know, we won the championship two years ago," Stewart said. "I don't think a lot has changed since then."
Bowyer acknowledged that he was winded from his adrenaline-fueled sprint at Phoenix International Raceway last November when he went in search of Jeff Gordon after the four-time champ intentionally wrecked him. While physical conditioning has helped many drivers considerably, Bowyer feels that mental health is every bit as important.
"You have to be mentally healthy — that's what you have to be," Bowyer said. "You have to be sharp and you have to be focused and certainly physical conditioning is a big part of that. There's no denying that. I've never been tired in a car. I've certainly been tired running. As a matter of fact I was tired at Phoenix — that was a hell of a run. I could not keep that pace up for 13 miles.
"I don't have trouble turning the steering wheel, it's not that heavy — it's power assist. Working out and stuff like that — there will be a time. When I get that age I will work out. I'm going to enjoy myself now."
SPEED DEMONS
Kevin Harvick topped the speed chart in Sprint Unlimited practice on Friday.
While drafting, Harvick posted a fast lap of 197.364 mph. Aric Almirola (197.316 mph), Greg Biffle (197.109 mph), Kasey Kahne (197.040 mph) and Martin Truex Jr. (197.040 mph) rounded out the top five in that session.
Nineteen drivers participated in first practice but after a five-car wreck involving Matt Kenseth, Kurt Busch, Carl Edwards, Mark Martin and Juan Pablo Montoya early in the opening practice, only 12 cars opted to return to the track for final practice and elected to stick to single-car runs.
Denny Hamlin's lap of 196.053 mph was the fastest during second practice.
But through the Race with Insulin initiative, his message will now be spread through all three series Chip Ganassi Racing competes in, including NASCAR's Sprint Cup and Grand-Am series.
Kimball's sponsor Novo Nordisk will support the Race with Insulin Unites campaign on Jamie McMurray's car at Martinsville Speedway on April 7. Kimball's IndyCar teammates Scott Dixon and Dario Franchitti will also carry the paint scheme that same week at Barber Motorsports Park.
"If our team can help others understand that even with diabetes, you can live life to the fullest, then we are glad to help," said team owner Chip Ganassi. "Charlie is an emerging talent in the race car and he is an even better human being. A program like this speaks volumes about him."
THE 'R' WORD
Don't say the word retirement to Mark Martin.
Although the popular veteran mentioned he didn't want to race full time in 2014, he's not ready to release his plans nor has he acknowledged that he wanted step away from racing entirely.
"I'm not going to even talk about that," Martin said. "It's a good number for me now (the part-time schedule) — that's why I signed up for it. I like it, but I'm not going to talk about 2014."
In 854 starts over three decades, Martin, 54, has posted 40 career Cup victories.
Matt Kenseth, who acknowledged triggering the wreck, is now working with Chris Osborne. Kurt Busch has Rick Carelli guiding him while Derek Kneeland is spotting for Juan Pablo Montoya.
NUMBERS GAME
45: Entrants for the Daytona 500.
46: Laps run by Jeff Gordon — the most circuits posted in practice.
6: Laps run by Juan Pablo Montoya in second practice after the team repaired his car and he returned to the track.
8: Laps of practice on the primary cars of Kurt Busch, Mark Martin and Carl Edwards before the backup cars were unloaded.