CUP: Will Gibbs Stay Out Front?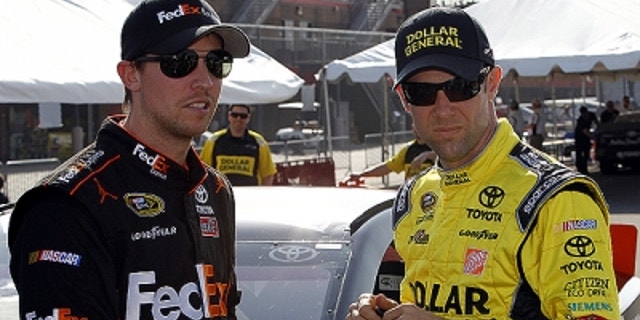 By any objective measure, Joe Gibbs Racing is mauling the competition in the NASCAR Sprint Cup Series right now.
In 11 Sprint Cup points races so far this season, JGR has won five times to three for Hendrick Motorsports and one each for Roush Fenway Racing, Richard Childress Racing and Front Row Motorsports.
In terms of laps led, the three JGR Toyotas have been out front for 1,587 of 3,549 laps contested in those races. That's a whopping 44.7 percent of laps that the team has led. This despite the fact that neither Hamlin nor his substitute drivers have led a lap since his injury at Auto Club Speedway in the fifth race of the season.
In short, JGR is way ahead of every other top-tier Cup team right now.
This year, of course, NASCAR has mandated the use of the new Generation-6 Sprint Cup cars, which are substantially different from the cars they replaced in terms of aerodynamics, rear suspension, weight and other key variables.
And whenever NASCAR makes a major change to the cars, there are always one or two teams that move to the front immediately.
NASCAR's last major rules change prior to this year came at Martinsville Speedway in the spring of 2010. From that race on, the sixth of the '10 season, NASCAR replaced the big, ungainly wing on the rear of the Gen-5 cars with a conventional blade spoiler.
What happened before and after the change revealed much.
In the first five races of the 2010 season, Hendrick won three times and JGR was shut out.
Then, at Martinsville, NASCAR replaced the spoiler with the wing and made some other, seemingly minor aerodynamic changes. JGR won at Martinsville and went on to capture seven of the first 10 races run with the spoiler, during which time the Hendrick squad went winless as it feverishly tried to make up the ground it lost.
"We built cars and built some of our packages around that wing and when we went to spoiler we were behind. We were all behind," said team owner Rick Hendrick in 2010. "None of the cars ran like they should."
Finally, Hendrick did get caught up, and over the final 21 races of the season, there was relative parity: JGR, Roush Fenway and RCR won four times each in that stretch, to three victories apiece for Hendrick and Earnhardt Ganassi Racing with Felix Sabates.
The point of all this is that JGR's current hot streak is not without precedent. It could well continue all year, with Matt Kenseth right now certainly looking capable of winning his second Sprint Cup championship. Teammates Kyle Busch and Hamlin could get in the mix, too, although Hamlin is in a deep points hole right now.
A more likely scenario to a year of total domination is that one or more of the other power teams will catch up and give JGR a run for its money at some point in the season.
Reigning Sprint Cup Champion Brad Keselowski thinks this year's championship will be determined by which team can develop the new G-6s faster than the others — and how that ongoing development is policed by NASCAR.
Penske Racing, the team Keselowski drives for, already has been penalized once by NASCAR for rear suspension infractions. Likewise, JGR has been dinged as well for a vendor-supplied engine part that came up too light in inspection.
"What level of innovation is considered acceptable for this car is still a very, very large question," Keselowski told SPEED.com. "… The competitors are searching for what is an acceptable level of innovation. How that's determined will really set the course."
For his part, Kenseth isn't the least bit worried that his team might be peaking too soon.
"I'm not a big believer in that," Kenseth said. "I think the goal of a race team and an organization is to never peak. I think it's to continue to keep getting better. That's one thing I've seen over there pretty much from day one. They're not standing still. They're always trying to build a better car. TRD (Toyota Racing Development) is trying to build a better engine.
"We're always trying to do that, working on the future," said Kenseth. "I think that's how racing is. I really feel like with this team, driving this car, I feel like the sky's the limit. This stuff has been incredibly fast."
Tom Jensen is the Editor in Chief of SPEED.com, Senior NASCAR Editor at RACER and a contributing Editor for TruckSeries.com. You can follow him online at twitter.com/tomjensen100.