CUP: Will Fords Step Up In Kansas Race?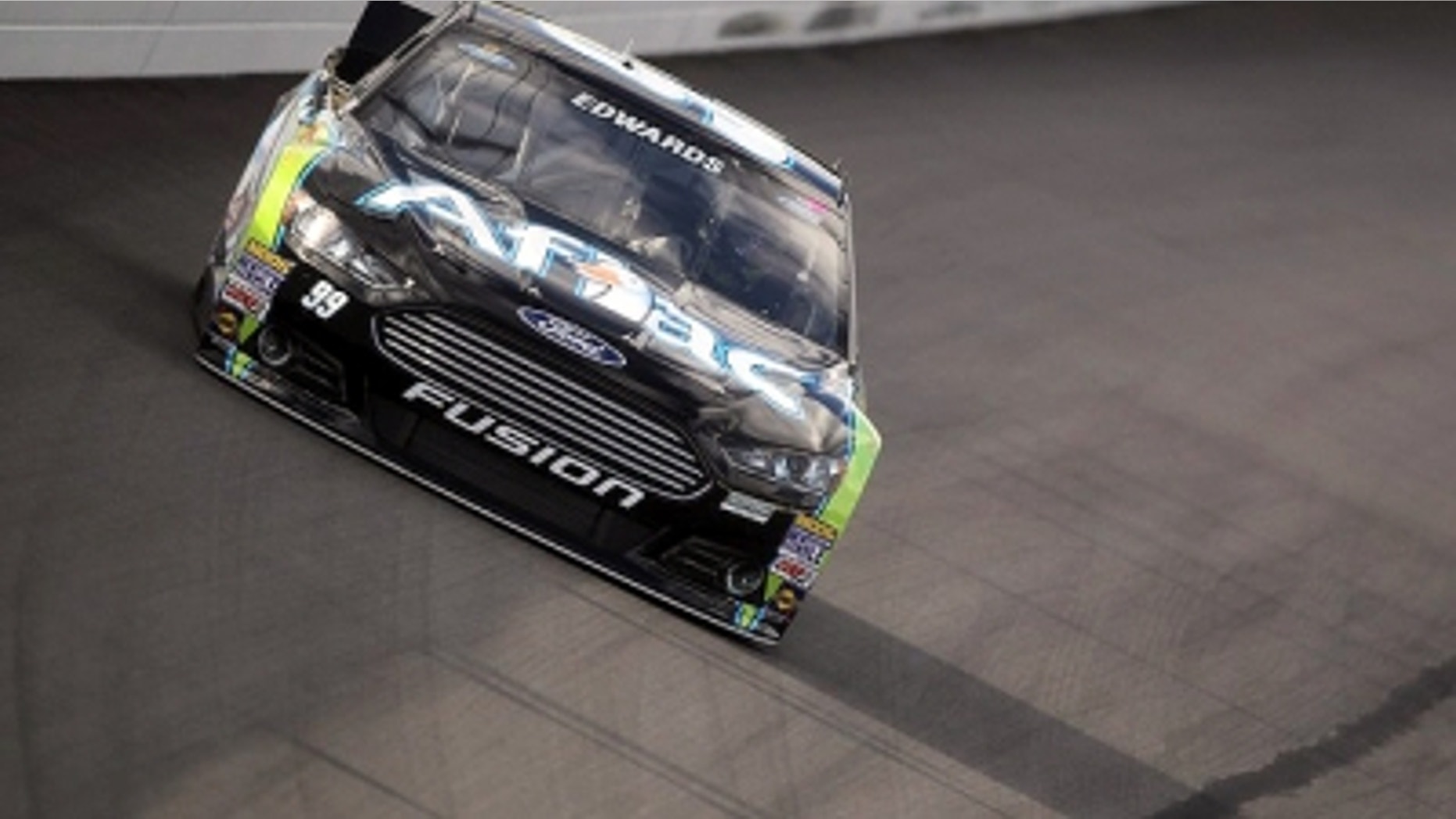 Could this be the weekend that Ford finally steps up?
In the first seven races of the season, the Sprint Cup Series has been a battle between Toyota and Chevy. Both manufacturers have enjoyed three trips to victory lane. Toyota Camrys have posted the top qualifying speed in five of the first eight events after Las Vegas time trials were rained out.
With the exception of Carl Edwards' win at Phoenix on March 3, there's been very little for the Blue Oval brigade to cheer about. To put salt in the wound at Kansas Speedway, Matt Kenseth's Camry knocked his former Roush Fenway Racing teammate Carl Edwards off the provisional pole when the No. 99 Ford and Ricky Stenhouse Jr. appeared comfortably on the front row — and on Jack Roush's birthday no less. Score another one for the Dark Side.
That's just how the season has been for Ford. Penske Racing's addition to Ford was expected to rejuvenate its effort. Not surprisingly, defending champ Brad Keselowski remains the most consistent driver in the camp. Before the season started, Ford management had designs on delivering the manufacturer's title this season. However, currently the standings are tied between Toyota and Chevy with 49 points each. Ford trails with 35.
Certainly, the Fords showed up last week at Texas Motor Speedway — as one would suspect given Roush's record at the track. The Roush-Yates powered Fusion of Edwards posted a podium finish. Greg Biffle and Joey Logano's Fords rounded out the top five with Aric Almirola and Keselowski representing with seventh and ninth-place finishes, respectively. But they were surrounded by Camrys and Chevy SS's and only Logano, David Ragan and David Gilliland led laps — a total of three circuits, all under caution.
Speaking of laps led, for the season, Kyle Busch (Toyota) tops the tour with 435 circuits at the point or 18.77 percent of the 2,317 laps raced. Jimmie Johnson (Chevy) is second (430 laps), followed by Matt Kenseth (Toyota, 319), Kasey Kahne (Chevy, 223) and Denny Hamlin (Toyota, 156). The only Fords in the top 10 lap leaders are Edwards (122) and Keselowski (103).
On Friday, the Fords exhibited speed in qualifying. Four Fusions were ranked among the top six — Edwards, Stenhouse, Sam Hornish Jr. and Almirola, who will post consecutive top 10 starts come Sunday. In the final two practices, Hornish, Almirola and Keselowski were among the top five drivers with the best 10 consecutive lap averages. Stenhouse, Almirola, Greg Biffle and Edwards posted four of the top five laps.
While Edwards winning at his home track would be the ideal storyline, in Happy Hour it was Kenseth back on top of the speed chart — and at the same track where he celebrated in a Ford in Victory Lane last November. After slapping the wall in practice on Friday, even Kenseth was surprised when he posted the fastest speed in qualifying.
"I didn't think we had a chance of sitting on it, really," said Kenseth, who earned just his ninth pole in 480 career starts. "It's probably the fastest track we go to all year. I just wasn't really expecting it. We thought about a lot and talked about a lot. Them guys made some great changes, and we picked up a tenth and a half and a lot of people weren't really picking up."
But Kenseth has not lacked for speed all season. His current average qualifying effort of 10.6 is a career best. Although the 1.5-mile intermediate track is challenging — particularly since last year's repave — Kenseth maintains an average finish of 4.4 in the last five races at Kansas Speedway.
"I've been comfortable — I really like the track," Kenseth said. "It's one of those tracks when you first get on it and you come here with them first couple of runs, you have a hard time feeling where the edge is. Whenever you go to a new race track, you have to bring a relatively hard and durable tire just because the track has so much grip.
"Here and Michigan, it gets a little better every lap you run and the longer you're here, but they're difficult tracks to get the balance right."
Although Kenseth is just five months into his new ride at Joe Gibbs Racing, he credits his relationship with crew chief Jason Ratcliff, the No. 20 crew, his teammates and Toyota Racing Development for helping him get up to speed.
"Even though I didn't know him, I had a really great feeling about Jason Ratcliff, and it was really important for me to be teamed up with him," Kenseth said. "You can see everything that TRD has done and how good their stuff runs and all that they put into the engineering, that side of it and the engine side of it.
"It couldn't really be any better. I really enjoy not just Jason, but really this whole group. It's definitely the right place at the right time for me. I've been having a great time and we've been having some great runs and we have a lot of speed. Looking forward to the race Sunday."
NUMBERS GAME
Although a date has yet to be set for Penske Racing's appeal, since 1999, the National Stock Car Racing Appeals Panel has heard 146 cases:
102 appeals were upheld.
31 appeals were reduced.
11 appeals were overturned.
2 appeals were increased.
SAY WHAT?
Kyle Busch expressed his frustration while racing Clay Greenfield in the first 60 laps of Saturday's truck race.
"They got to figure out how to hold their line," Busch said. "If you go in the corner and you go down low, you got to (expletive) stay low. They don't even need to be out there. They're going too slow anyway."