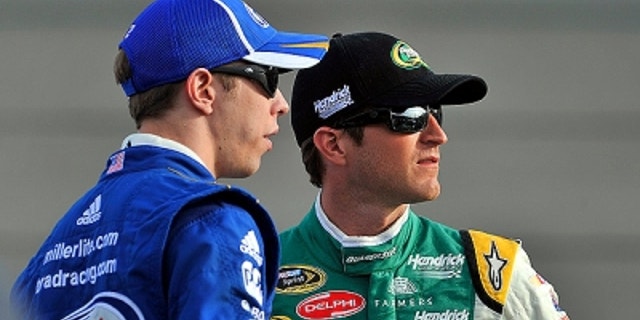 Don't look now, but, with the Sprint Cup "regular season" reaching its halfway point Sunday at Dover International Speedway, the race for the Chase's two wild-card spots is developing into something that could be, well, wild.
Sunday's FedEx 400 Benefiting Autism Speaks at the Monster Mile will be the 13th race of the season, marking the halfway point on the way to the Sept. 8 Chase for the Sprint Cup cutoff race at Richmond, Va.
That leaves 14 races – at tracks as wildly different as Dover, Pocono, Sonoma, Daytona and Indianapolis – to determine the 10 automatic Chase qualifiers and the two wild cards.
After Richmond, the top 10 drivers in points move on to the Chase. The wild card spots will be filled by the two drivers in positions 11 through 20 in points with the most victories.
At the moment, the wild cards are held by Brad Keselowski, who is 11th in points with a pair of wins, and Ryan Newman, who is 13th in points with a single victory. Kasey Kahne joined the wild-card hunt with Sunday's Coca-Cola 600 win, his first of the year, but, as matters now stand, he would lose the second wild-card spot to Newman because Newman is higher in points.
Keselowski, Newman and Kahne currently are the only drivers in positions 11-20 with race wins.
That could change quickly, however, and movement above Keselowski also could impact the wild-card race.
Carl Edwards sits 10th in points – the last Chase position, but he is only four points in front of Keselowski, and he has no race wins.
If Keselowski performs well Sunday at Dover and moves into the top 10 in points, replacing Edwards, Newman and Kahne would become the wild-card leaders and Edwards, with no victories, would be in the dark.
Of course, many other variables are at work, and much could change between now and September.
Any drivers in or on the edges of the top 20 could jump into the Chase with one or two victories and-or some points movement. Among this group are Clint Bowyer, Paul Menard, Joey Logano, Jeff Burton, Juan Pablo Montoya, Aric Almirola, Marcos Ambrose, Jamie McMurray, Jeff Gordon, Regan Smith, AJ Allmendinger and Kurt Busch.
Of the three drivers – Keselowski, Newman and Kahne – currently in the best wild-card positions, Keselowski and Kahne appear to hold the aces.
In seven of the 12 races to date, Keselowski has scored his best career finish. Chances appear good that he will compete for a top-10 Chase spot; if not, his two victories seem almost certain to carry him into the Chase.
Kahne's Sunday victory at Charlotte did more than throw him into the Chase pool. It continued a trend that has turned Kahne's season from trash to cash. After a miserable start in Season One at Hendrick Motorsports, Kahne has scored six straight top-10 runs and sits 15th in points.
There is no reason to expect that the seasons Keselowski and Kahne are building will turn sour.
Newman, on the other hand, is finding it difficult to gain traction. After winning at Martinsville April 1, he hasn't finish better than 14th in a points race. Dover, however, is one of Newman's best tracks – he has won there three times, so his course could be corrected this weekend.
"It's really unique how you drop off into the corners and then climb up the hills onto the straightaways," Newman said. "At Dover, the entry into the corners is the toughest part. If you don't get a good entry, you're not going to have a good middle or a good exit.
"You have narrow straightaways, and then the track opens a lot in the corners, so there's a good bit of give-and-take. To me, as a driver, it's just a track that's a lot of fun. It's a challenge. If you don't like a challenge, you don't like Dover. I really look forward to racing there. It's fast, it's demanding."
And it can add more fuel to the Chase fire.
Mike Hembree is NASCAR Editor for SPEED.com and has been covering motorsports for 30 years. He is a six-time winner of the National Motorsports Press Association Writer of the Year Award.