CUP: Wild Finish Scrambles Points Again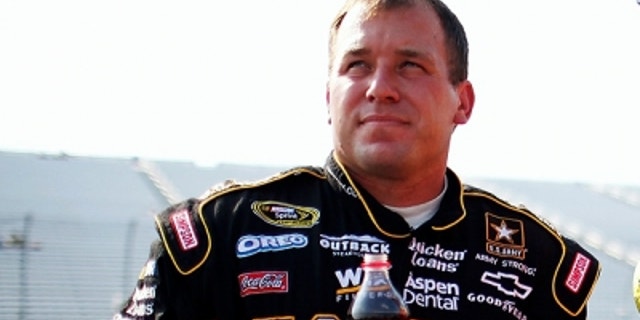 It likely will be a long time before a race ends in as much chaos as the Finger Lakes 355 at the Glen did on Sunday.
With one lap to go Kyle Busch looked like he had the race in the bag — and with it, a critical second race victory on the season — but with oil all over the track after Bobby Labonte's engine blew up, things went haywire in a hurry.
Busch slid in Labonte's oil, got turned on the last lap by Brad Keselowski and ended the race seventh. Marcos Ambrose passed both Busch and Keselowski on the final lap to win his second straight race at The Glen.
Afterwards, there was much debate over whether NASCAR should have thrown a caution because of the oil, but regardless, the last-lap insanity definitely mixed up the points.
Five-time NASCAR Sprint Cup Jimmie Johnson, who finished third behind Ambrose and Keselowski, leads Greg Biffle by a single point and Matt Kenseth by 2 points. Biffle and Kenseth, teammates at Roush Fenway Racing, finished sixth and eighth, respectively, at the Glen, with Busch between them in seventh.
Dale Earnhardt Jr., who crashed late and finished 28th, is now fourth in points, 17 in arrears of Johnson.
More importantly, the wild-card race was completely shuffled yet again. After Richmond in four weeks, the top 10 in points and the two drivers with the most victories who are ranked between positions 11 and 20 in points will be locked into the Chase for the Sprint Cup.
Had Busch won, he would have had a second victory and a near lock on a Chase spot. Instead, the wild cards now break down as follows:
Wild card No. 1 — Kasey Kahne has two race victories and is 11th in points. He finished 13th at Watkins Glen.
Wild card No. 2 — Ryan Newman has one victory and is 13th in points.
Contenders — Kyle Busch (6 points behind Newman), Jeff Gordon (-10), Marcos Ambrose (-44) and Joey Logano (-57) each have one race victory, but are behind in points with four races to go.
Newman survived a flat tire to finish 11th at Watkins and was glad to leave the road course with the second wild-card spot.
"We got misfortune with the tire that got cut, but the U.S. Army Chevrolet team had good and we were fortunate to work our way back up toward the front," said Newman. "We had a car that was a little better than where we finished but in the end it was a good day for us in the points."
Gordon, who came into the race in the second wild-card position but lost it when he crashed on the last lap, was less than pleased.
"It's just unfortunate that that gets taken away from you because NASCAR doesn't want to end the race under yellow," said Gordon. "I understand. You want to keep it entertaining and give the winner a shot at it, but there are a lot of other things going on our there, too. I think they completely disregarded that and hey, it's over now. We'll move on."
Tom Jensen is the Editor in Chief of SPEED.com, Senior NASCAR Editor at RACER and a contributing Editor for TruckSeries.com. You can follow him online at twitter.com/tomjensen100.