CUP: Wild Card Question Is A Big One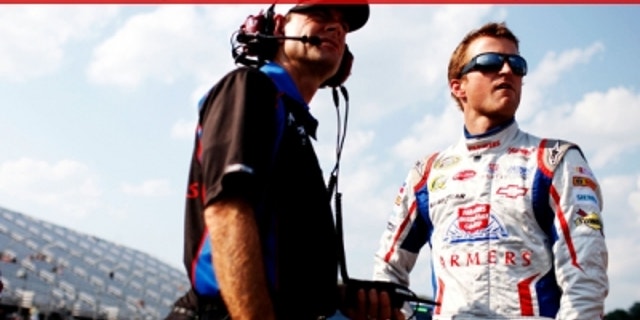 The wild-card race is getting…well…wild.
Two drivers within one racing organization – Joe Gibbs Racing – currently hold the two wild-card invitations to the Chase for the Sprint Cup. But eight races remain until they are officially presented, and much can change between now and then.
Kyle Busch and teammate Joey Logano sit in the wild-card seats entering Sunday's Lenox Industrial Tools 301 at New Hampshire Motor Speedway. Immediately behind them are Ryan Newman and Kasey Kahne. All four drivers have one win each.
A second victory by any of them could scramble the wild-card standings, as would two quick wins by any of the other wild-card contenders – for example, Jeff Gordon.
"I don't think you can really count out anyone in the top 20 just because right now if you're able to knock-off two wins, you'd be the guy," Kahne said. "So that's going to all change over eight weeks. Who knows what will happen? But I feel like our team – we just need to stay consistent. We've been doing a pretty good job of that.
"We just need to keep running as well as we can. And then if we get that chance to win, we need to win another race to really give us a better shot at making the Chase. But even at that, it's going to be tough. I feel like it's really close. It's really competitive. ... Everybody is close. It's tough to get that win or get a couple more wins. But we're going to try. We're going to do the best we can."
Newman said his approach for the rest of the season is all about winning.
"Winning is important for our sponsors, winning is important for our team and it's important from a points standpoint, Newman said. "We are here to do that. We would like to be in the top 10 (in points) and not have to worry about that, but you look at somebody like Carl Edwards, who is not even in the Chase for the championship right now whether it's a wild card or not, and he tied for the championship last year.
"We are in real good/bad company. There is a lot of guys that are very deserving to be in that top 10 or 12 right around, so we have to work our tails off."
Busch owns a win at Richmond but has been plagued in recent events by engine woes. Over the past six races, his best finish is a 10th – at Kentucky.
He won the pole Friday for Sunday's race.
"I think any situation that gets thrown at you, you have to be good," Busch said. "Whether it's a tense moment coming down to the end [and] you're battling people and racing hard for the win, or if it's just qualifying or what have you. There hasn't been a lot of times where I've qualified on the pole for 30 or 40 races – it's been a while (32 races).
"[You] just try to work as hard as you can in any circumstance you're given. My guys do that every time on pit road, whether we're boxed in or what have you, so you have to do the same behind the wheel."
Mike Hembree is NASCAR Editor for SPEED.com and has been covering motorsports for 30 years. He is a six-time winner of the National Motorsports Press Association Writer of the Year Award.