CUP: Wild Bunch Preps For Atlanta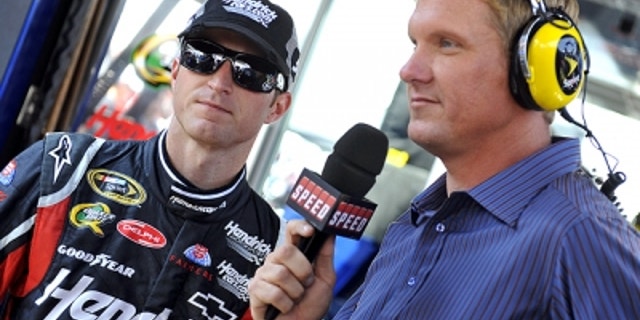 NEWYou can now listen to Fox News articles!
Greg Biffle, Matt Kenseth, Jimmie Johnson and Dale Earnhardt Jr. are in the Chase for the Sprint Cup.
Several other drivers will lock themselves in this week in Atlanta.
Then there is the Wild Bunch. And Kevin Harvick.
At least six drivers – and potentially more – remain in the hunt for wild-card berths in the Chase with only Sunday night's race at Atlanta Motor Speedway and the Sept. 8 event at Richmond International Raceway remaining on the regular-season schedule.
Kasey Kahne and Kyle Busch currently clutch the two wild cards. Kahne is in the safest position with two race wins. Busch and the four drivers immediately behind him in the wild-card standings – Jeff Gordon, Ryan Newman, Marcos Ambrose and Joey Logano – have one win each. Busch leads for the second wild card because he has more points than any of the other single-race winners.
Carl Edwards, Paul Menard, Jamie McMurray and Jeff Burton also are in the points top 20 and technically remain eligible for wild-card spots, but, with no victories, their hopes are slim and rapidly becoming slimmer.
Edwards made a banzai run late in Saturday night's race at Bristol Motor Speedway, leading 17 straight laps and hoping he could hang on to first place and stretch a fuel load past its normal limit. Neither plan worked. Eventual winner Denny Hamlin passed him with 39 laps to go, and Edwards lost fuel pressure with four laps left. He finished 22nd, but, for Edwards, it was a win-or-nothing situation.
A win by Busch, Gordon, Newman, Ambrose or Logano at Atlanta Sunday night would be huge and would send all of the other wild-card hopefuls into a mad scramble at the regular-season finale at Richmond.
As for the drivers currently riding in the top 10, Harvick, who is ninth, seems to be the only one with any possible worries. He's 37 points in front of 11th-place Kahne and has that cushion with two races remaining. He's in deep trouble, however, should he have bad races at Atlanta and Richmond, because he could fall out of the top 10 and into oblivion.
Tony Stewart is in the 10th position in the point standings and is only 16 points in front of Kahne, but Stewart is a virtual lock for a wild-card even if he falls out of the top 10 because of his three victories.
All Stewart needs is a new helmet.
Mike Hembree is NASCAR Editor for SPEED.com and has been covering motorsports for 30 years. He is a six-time winner of the National Motorsports Press Association Writer of the Year Award.