CUP: Wide-Open Field For Brickyard 400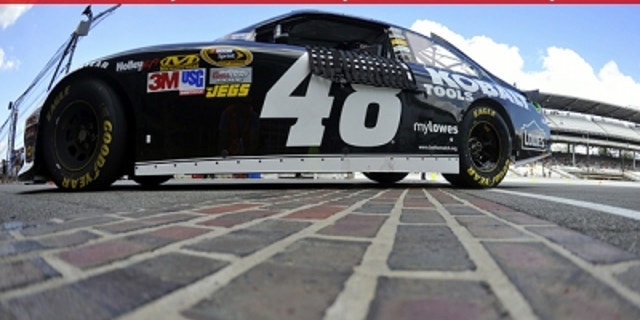 When Denny Hamlin captured the pole for the Crown Royal Presents the Curtiss Shaver 400 at the Brickyard by more than two-tenths of a second on Saturday, he was clearly in a class by himself.
Hamlin's No. 11 Joe Gibbs Racing Toyota was sensational in qualifying, with a lap of 182.763 miles per hour.
So that makes him the favorite today at Indianapolis Motor Speedway, right?
Maybe, maybe not.
As good as Hamlin looked Saturday — and he looked great — history is not on his side. In 18 previous Brickyard 400s, only twice has the pole-sitter won the race: Kevin Harvick in 2003 and Jimmie Johnson in 2008.
Nevertheless, Hamlin is loose and confident about his chances today.
"Really no pressure," he said Saturday. "It's all about winning from this point on for our team. It's all about getting those three bonus points that will help us in the Chase. We saw last year that three points can make a difference in winning a championship and not. We are going to try to give it everything we can."
Hamlin faces some stiff competition today, including:
JIMMIE JOHNSON — The three-time Brickyard winner qualified sixth, was sixth in Happy Hour and knows what it takes to get around here.
"It's almost as line-specific as a road course," Johnson said of the 2.5-mile track. "A lot of the ovals we have tons of room and if you go in the corner and you slip up, you can run the second or third lane. You can't do that here.You'll lose way too much time."
GREG BIFFLE — Fastest in Happy Hour, Biffle missed it a little on his qualifying lap but still earned a fifth-place spot on the grid. His Roush Fenway Ford was fast all day yesterday.
"I feel really good," Biffle said. "The car is driving extremely well in race trim. We never put a set of (new) tires on in this practice, so we just worked on the old set of tires and worked on the track being slick and worked on good grip. … I think we will be good for a warmer, slick, rubbered-up race track."
CARL EDWARDS — Second in qualifying and second in Happy Hour, Edwards ought to be tough like his teammate Biffle. This is Edwards' first race with new crew chief Chad Norris, and that makes today something of a wild card for him.
"Somebody asked me, 'What's it like working with Chad? What's he like?' I said, 'I don't know; I don't even know him. We're just going and racing,'" said Edwards. "And so yeah, that might make us a little looser to know that we're throwing it all on the table. We don't really have anything to lose at this point."
JOEY LOGANO — With his future uncertain at Joe Gibbs Racing, a second victory this season would be huge for Logano, one of the contenders for the second wild-card spot in the Chase for the Sprint Cup. He qualified third and was third in Happy Hour.
"I've blown up in practice here twice and had to start in the back, and I know it's really, really hard and it takes all day to get up there," said Logano. "So starting towards the front is going to be — I think it's more important here than probably anywhere we go. So it should help."
JEFF GORDON — This season has been a dismal one for the four-time champion, but he is the only driver with four Brickyard 400 victories, and his Hendrick Motorsports Chevy was fast yesterday. He'll start ninth.
"I never dreamed of winning one, let alone four," said Gordon. "So five would only just be unimaginable, really. Yet I look at last year (when) we were so close to getting number five. And that's the way you have to focus on it. You don't focus on a number. You focus on getting your car to the front and leading the lap that counts the most; that last one."
Tom Jensen is the Editor in Chief of SPEED.com, Senior NASCAR Editor at RACER and a contributing Editor for TruckSeries.com. You can follow him online at twitter.com/tomjensen100.