CUP: Who Steps Up Tonight?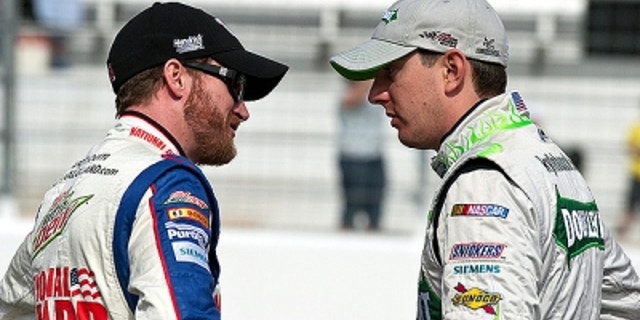 Redemption.
At its core, redemption is one of the most fundamental storylines of NASCAR racing. That much was obvious watching the brothers Busch Friday night at Richmond International Raceway, where Kurt won a NASCAR Nationwide Series race driving Kyle's Toyota.
Everyone knows it's been a pretty rotten six months for the brothers, but Friday night made a lot of things that had been wrong suddenly become very, very right.
And that's why Kyle was fighting back tears in his post-race TV interview, and Kurt had the verve of a kid who'd just won his first race. It was real, genuine emotion from two men who needed some good news and got it. And a sport that needed it, too.
It was high drama.
It was great theater.
And given that it was the closest Nationwide finish in history at RIR, it was some dandy racing, too.
All of which begs the fundamental question, can lightning strike twice in the same place?
And the answer, I believe, is yes. So heading into tonight's Capital City 400, which drivers are both in need of redemption and have the potential to win?
Here's five who fit that bill, all guys who qualified in the top 10, all guys with a real chance at victory.
1. MARK MARTIN — Just three short years ago, Martin won five races and came close to ending Jimmie Johnson's reign as NASCAR Sprint Cup champion. But it's been 87 long races since Martin has found victory in a Cup car. The 53-year-old is having fun and saying and doing all the right things in his first season with Michael Waltrip Racing. But a victory tonight would do for Martin what Kurt Busch's win did for him Friday night: Put him back on the map. He'll start from the pole tonight.
2. KASEY KAHNE — The addition of Kahne was supposed to bolster an already formidable Hendrick Motorsports squad the same way that signing Albert Pujols was supposed to elevate the Los Angeles Angels. In neither instance has reality yet matched up to expectations. But, particularly in Kahne's case, they still could. Kahne is coming off his two best finishes of the season and a victory tonight could get him back in the game in a big way. He'll start ninth.
3. CARL EDWARDS — While ninth place in the Sprint Cup standings isn't horrible, Edwards isn't running nearly as well as his Roush Fenway Racing teammates Greg Biffle and Matt Kenseth, who are first and third, respectively. That said, Edwards starts tonight on the outside pole while his teammates are buried in the field. In his interviews, the media-savvy Edwards always says and does the right things, but he does seem to have lost his swagger after last year's crushing disappointment in the Chase. Nothing cures lack of swagger like a victory. Just ask Denny Hamlin .
4. KYLE BUSCH — As an owner, Busch had a magical night watching his brother win Friday night's Nationwide race. Busch the Sprint Cup driver needs to help himself tonight. Busch starts fifth tonight. He has won the last three Richmond spring races and has an amazing 11 top-five finishes in 14 Cup starts here. But he's fallen way behind his Joe Gibbs Racing teammate Denny Hamlin. A victory tonight would put the two on much more equal footing.
5. DALE EARNHARDT JR. — Every weekend, the Twitter timeline is blown up by eager Junior Nation fans insisting that this is the weekend that Junior breaks his winless streak. The bottom line? Earnhardt's long victory drought needs to end soon. This is NASCAR's version of "Waiting For Godot," with Earnhardt in the lead role and millions of devoted fans playing Didi and Gogo. Plus, Mr. H needs to quit schlepping the Hendrick Motorsports 200 victories hats from track to track to track.
Tom Jensen is the Editor in Chief of SPEED.com, Senior NASCAR Editor at RACER and a contributing Editor for TruckSeries.com. You can follow him online at twitter.com/tomjensen100.