CUP: Where's Flyin' Ryan?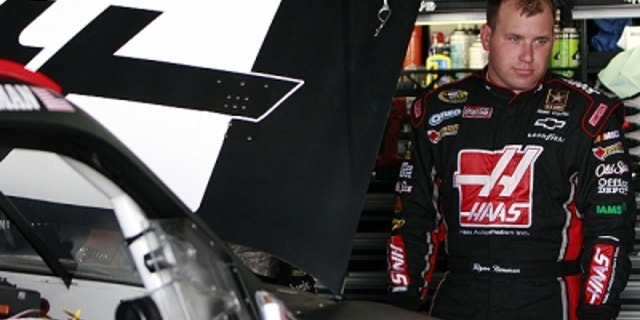 Atlanta Motor Speedway is known for its high speeds. Geoffrey Bodine set the track's qualifying record in 1997 with a scalding run of 197.478 miles per hour. Kasey Kahne won the pole for last year's Sprint Cup race at the 1.5-mile track with a speed of 186.196.
Qualifying for Sunday night's AdvoCare 500 at AMS is scheduled at 6 p.m. Friday, and the evening temperatures make it likely that time-trial speeds will hit big numbers again.
And that brings us to Ryan Newman, who, curiously, will be shooting for his first pole of the Sprint Cup season Friday night.
Newman certified his nickname of "Flyin' Ryan" early in his Sprint Cup career, winning six poles in his first full-time season (2002), 11 poles the next year, nine the next and eight the next.
The Ryan Express slowed in the following years, but he still has been at or near the top in most qualifying sessions. He's started seven races in the top five this year, for example.
Newman's last pole, however, was scored 32 races ago – in September last year at New Hampshire Motor Speedway.
Newman will have several incentives to run very fast in Friday qualifying. A pole win would be his eighth at Atlanta, breaking a tie for the track record with Buddy Baker, a retired driver who once served as Newman's driving coach.
Newman's next pole also will be the landmark 50th of his career. Only eight drivers have won more.
Most importantly, however, a pole win would give Newman an excellent platform upon which to pursue a second – and perhaps critical – seasonal victory.
Newman held the second Chase for the Sprint Cup wild card prior to Saturday night's Irwin Tools Night Race at Bristol Motor Speedway, but he was one of the victims of the evening's mayhem. He parked his Chevrolet after being involved in an accident 189 laps into the race, finishing 36th.
That dropped Newman from the wild-card perch into fourth place in the wild-card standings, behind Kasey Kahne, Kyle Busch and Jeff Gordon. Newman is 15th in series points.
Depending on movement around him in the wild-card battle, Newman still has a shot at qualifying for the Chase with only one series victory (in the spring at Martinsville), but a second win would be a huge plus. Sunday's AMS race and next weekend's race at Richmond International Raceway are the only events remaining on the regular-season schedule.
A Newman win at Atlanta would be his first. Although he has started from the pole seven times at the track, he has only one top-five finish in 19 races.
Mike Hembree is NASCAR Editor for SPEED.com and has been covering motorsports for 30 years. He is a six-time winner of the National Motorsports Press Association Writer of the Year Award.