CUP: What Did We Learn In California?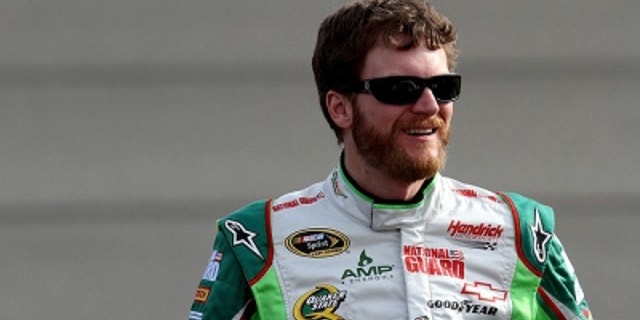 When the 2012 NASCAR Sprint Cup season started, who bet that Dale Earnhardt Jr. would be leading the Hendrick Motorsports contingent in the points standings?
Yet, here we are five weeks into the schedule and NASCAR's Most Popular Driver is comfortably sitting third.
While Earnhardt trails points leader Greg Biffle by 17 points, his closest Hendrick teammate Jimmie Johnson is still 19 points behind the No. 88 Chevrolet and in 10th-place, even after 25 points were redeposited into his tally last week when his Daytona 500 penalties were overturned. Jeff Gordon is 24th in the standings and Hendrick newcomer Kasey Kahne is 26th.
Earnhardt humbly acknowledges his standing among his champion teammates. However, his confidence is rising to the point that Earnhardt's convinced he can be a contender again.
"Well, they outran us all day long," Earnhardt said after Sunday's rain-shortened Auto Club 400 at Auto Club Speedway. "Jeff had a little trouble on pit road. Jimmie had -- they decided to come down pit road because they thought it was not going to run all day. They've been beating us most of the weekend.
"We've really been competitive, though. I like how our season is going so far. If we can keep going like this, we might get some opportunities like we did last year of winning some races and seal the deal eventually."
Junior is not only comfortable in the sense of his position in the standings, he's completely engaged with crew chief Steve Letarte and the entire No. 88 National Guard team. That was clear on Friday, as Junior spent qualifying with his team and helped push his car down pit road until it was time to make his lap. And Earnhardt's investment with his men is paying off.
"Yeah, I'm really happy," Earnhardt said. "I'm performing better. Most of the credit has to go to Steve and the team. Those guys did a great job today on pit road. We had some really good stops.
"Steve is doing an amazing job. He deserves most of the credit for how well we're running. He's giving me really good cars, cars that are fun to drive, relatively easy to drive."
That hasn't always been the case for Earnhardt with the new car, or car of tomorrow as it was originally christened for its partial run in 2007. Since that car's debut, Earnhardt has won just one race. Sunday's third-place finished marked Junior's first top 10-result at Auto Club Speedway in the new car.
Earnhardt feels the team is competitive right now and he's "happy with the direction we're going." With the Sprint Cup tour entering Martinsville Speedway, the driver's contentment couldn't have come at a better time. Earnhardt loves short-track racing and has proven his proficiency on the half-mile track with nine top-fives and 13 top-10 finishes in 24 starts. Still, Earnhardt is searching for that first win at Martinsville, but considering it's been 134 races without a victory for the driver, any trophy would be welcomed.
"I look forward (to) going to Martinsville," Earnhardt said. "I always have a lot of fun there. I think everybody really enjoys running there. It's a pretty fun track. We've had some good success there.
"I'm hoping to have a good race like we did last year and maybe have an opportunity to try to be in the battle for the win."
Here are 10 other topics to consider entering Martinsville:
1. Miss Rubbin' is Racin'?
If Bristol didn't satisfy your short-track hunger, then buy a ticket to Martinsville Speedway this weekend. The tighter confines will certainly promote using the chrome horn to move competitors out of the way.
2. Revenge is a dish best served – with a bumper …
Martinsville is also the perfect venue to settle scores and with each race the list builds. Kyle Busch won't soon forget Juan Pablo Montoya blocking him on Sunday, a move that allowed Tony Stewart time to not only catch Busch's No. 18, but put Busch and the rest of the field to sleep. While cooler heads usually prevail, even a driver with ice in his veins such as Matt Kenseth can be pushed to the boiling point, as Brian Vickers proved last fall. And if Carl Edwards has forgotten that he has "one coming" from Ryan Newman, Rocketman will find a way to remind him.
3. Stay Classy Kyle ...
Did anyone else see the irony in Kyle Busch contradicting Dale Eanhardt Jr.'s claim about the current cars being "fun" and "relatively easier to drive?" Busch's reply, "Must be nice. They're not easy to drive." Coming from a kid who won the first race with the new model and has 20 victories in total since the car was introduced (more than Earnhardt's entire 18 career Cup wins), that just came off snarky. Perhaps Busch was disappointed with himself on Sunday for overdriving the car. Or maybe he's upset that both teammates Denny Hamlin and Joey Logano are ahead of him in the points standings. Regardless, given his level of talent, it's probably best for Busch to let his driving do the talking.
4. Triple Crown?
In Greg Biffle's younger years, pundits were certain that the driver, who delivered the first championship of any kind to Jack Roush when he won the 2000 Camping World Truck Series title and then followed that with the 2002 Nationwide Series title, would also be the first driver to best NASCAR's three tours. Now at 42, Biffle has led the points for three weeks after not topping the standings for seven seasons. His average finish of 5.6 in the first five races is remarkable. But can he keep up this pace? The reality check could come this weekend at Martinsville, where Biffle has earned just two top 10s in 18 career starts and has an average finish of 22.4.
5. Harvick Keeps on Truckin'
Yes, Harvick is another driver who isn't "Happy" with how his team has performed this season. But the Richard Childress racer is still second in the points standings – seven markers behind Greg Biffle. While the No. 29 Budweiser Chevrolet has yet to find Victory Lane this season, Harvick has been tremendously steady. He's completed every lap this season, has an average qualifying effort of ninth and average finish of seventh. Trust me, the wins will come.
6. Surprise Attack
Martin Truex Jr. has twice as many reasons to be motivated this season – it's a contract year and Michael Waltrip Racing's equipment is the best it's ever been. In the six seasons that Truex has competed full time in the Sprint Cup Series, he hasn't experienced such a successful run or remained in the top 10 in the points standings as long as he already has this year since 2007, when he drove for Dale Earnhardt Inc. While it's still early in the season, the combination of Truex and Chad Johnston, who took over crew chief duties last June, appear to be on the right path.
7. Dodge Ball
Certainly Dodge was thrown a curve ball when Penske Racing announced plans to abdicate its position as the home team. But if the manufacturer indeed plans on moving forward in NASCAR, time is of the essence, particularly with a new car coming in 2013. Unfortunately, there are slim pickings to choose from in the Sprint Cup garage right now in terms of available organizations. Dodge will need to establish factory teams in order to provide the level of support necessary to compete with the best Chevy, Ford and Toyota outfits.
8. Under the Radar
Yes, team owner Tony Stewart grabs all the attention, but Ryan Newman's seventh-place finish on Sunday vaulted the No. 39 team from 13th to 10th in the points standings. Newman has made a nice recovery since the race at Phoenix International Raceway, when he and Carl Edwards were battling for sixth place and the No. 39 eventually finished 21st. In the last three races, Newman's average finish is 7.6.
9. Driver for Hire
Brian Vickers will make his second start for Michael Waltrip Racing this weekend at Martinsville Speedway. In 13 starts, he has just two top-10 finishes. But his Bristol record wasn't stellar. Before finishing fifth two weeks ago, his best effort was 12th. Certainly, Vickers performed well under pressure at Bristol. Now, he'll return to the scene of his crimes against Matt Kenseth and we'll have a better indication of whether everyone has moved on.
10. Second Chances
Former Richard Petty Racing teammates Kasey Kahne and AJ Allmendinger moved on this season to their best career opportunities to date. On paper, it would appear that Kahne has the advantage at Hendrick Motorsports, considering he brought crew chief Kenny Francis and team engineer Keith Rodden along for the ride. However, Kahne finally posted his first top-15 finish of the season, but remains outside of the top 25 in points with a 108-point deficit behind leader Greg Biffle. Allmendinger's adventure at Penske Racing hasn't been much better, but he, too, broke the top-15 barrier on Sunday and is now just three markers outside of 25th in the standings. Allmendinger is slowly making gains with his new crew chief and team.