CUP: Water? Wine? Refugees? It's An MWR Win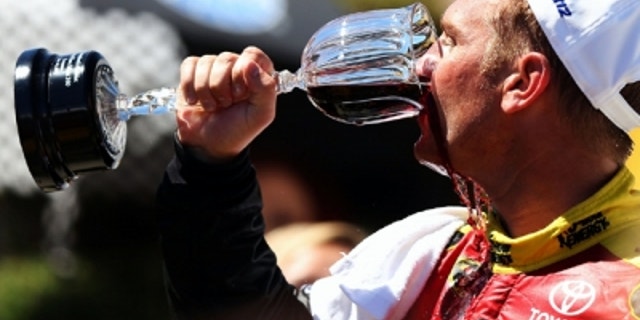 The winner's press conference Sunday following the Toyota/Save Mart 350 at Sonoma included a reference to Jesus changing water to wine, Clint Bowyer's somewhat prejudiced view of NASCAR history and a mention of "refugees" who happened to land at Michael Waltrip Racing.
Those sorts of things happen when a race has a surprise winner, especially when he works for Michael Waltrip Racing.
Bowyer surprised most of the field, probably including himself, in winning Sunday's race, thus scoring his first victory of the season and his first road-course win. Describing himself as a "dirt boy from Kansas," Bowyer wasn't listed among the race favorites.
Asked if Bowyer might be considered one of the tour's top road racers, second-place Tony Stewart said, "I don't think anybody had in the past, but all weekend he had had good speed. So it didn't surprise me to see him up there leading the race, and I don't know how many laps he led. I think he led the majority, didn't he?"
Indeed, Bowyer led 71 laps. No one else led more than 15. Bowyer was in front over the final 39 laps despite pressure from Kurt Busch and Stewart.
Bowyer was giddy in victory lane and in the winner's interview later in the media center.
Given a bottle of water at the podium, Bowyer said, "Why are we out in Wine Country drinking water? Let's celebrate!"
That led Waltrip to offer input about Jesus changing water to wine when wine was not available.
Bowyer scored his first win for Waltrip, who has struggled to get his team on solid footing and, with Bowyer and Martin Truex Jr. both in the top nine in points, appears to have reached that goal.
Waltrip called the No. 15 group "a team of refugees." Bowyer moved to MWR, leaving an uncertain situation at Richard Childress Racing, and his crew chief, Brian Pattie, moved in at MWR after being fired at Earnhardt Ganassi Racing.
"I basically kind of lost my ride at RCR, walked into a new program with a lot of unknowns, and I had a lot of confidence in what was going on," Bowyer said. "I still had confidence in myself. Michael … paired me with Brian Pattie and paired me with a lot of good people, and that's what it takes to be successful in any good business, and NASCAR racing is no exception.
"I've had good teammates, and I've had good stuff, but never like this at this magnitude. Michael stuck it out, and, I'm telling you, he's fixing to reap the benefits. He's worked hard."
It wasn't totally surprising that Bowyer called Sunday's race "the best in NASCAR history." That was a bit of hyperbole, but Bowyer probably meant it.
Mike Hembree is NASCAR Editor for SPEED.com and has been covering motorsports for 30 years. He is a six-time winner of the National Motorsports Press Association Writer of the Year Award.